Dragalia Lost ends first year having generated $106 million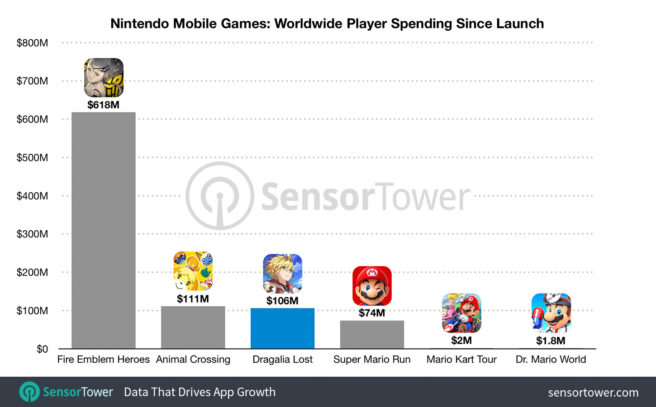 Dragalia Lost just celebrated its first anniversary a few days ago. The game has been pretty successful for Nintendo, as it's the company's third highest grossing mobile game at $106 million in total player spending from 3.2 million downloads. However, August 2019 was its lowest grossing month to date at just over $3 million generated.
Fire Emblem Heroes is Nintendo's biggest revenue earner on mobile at $618 million. Animal Crossing: Pocket Camp follows next at $111 million.
Sensor Tower points out that Dragalia Lost averages $33 in revenue per download. That's in comparison to Fire Emblem Heroes at $39 and Animal Crossing: Pocket Camp at just $3.60.
Japan accounts for 57 percent ($60 million) of player spending in Dragalia Lost. The United States is the next closest at 22 percent ($23 million), which is followed third by Hong Kong at 12 percent ($12.5 million).
Those on iOS have spent $62 million on Dragalia Lost. Android users make up the other $44 million of the total.
Leave a Reply