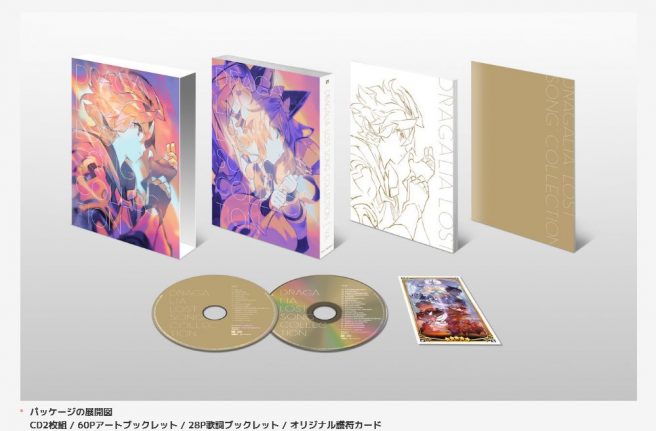 Cygames has announced the Dragalia Lost Song Collection, a compilation of vocal tracks featured in the mobile title. The package contains 38 pieces of music spread across two discs. A 60-page art book is also included.
Here's the full tracklist:
Disc 1
01. Get up
02. Dawn Song
03. Force your way
04. Bon Fever
05. Stealth Dance
06. CHECKMATE feat.EMA
07. case i
08. We Are The Lights
09. Rainbow Riders
10. Rainbow Riders (Battle Arrange ver.)
11. Maybe In The Next (Bealla ver.)
12. Maybe In The Next (Karina ver.)
13. Terrestrial Paradise
14. Hollow Dance
15. Because of You
16. Sample Answer
Disc 2
01. A frenzied rage (INST)
02. Torture (INST)
03. Gigantic Madness (INST)
04. A Gifted Tormentor (INST)
05. Getsuga (INST)
06. Judgment Day (INST)
07. Get up (INST)
08. Dawn Song (INST)
09. Force your way (INST)
10. Bon Fever (INST)
11. Stealth Dance (INST)
12. CHECKMATE feat.EMA (INST)
13. case i (INST)
14. Ancient Lights (INST)
15. We Are The Lights (INST)
16. Rainbow Riders (INST)
17. Rainbow Riders (INST) (Battle Arrange ver.)
18. Maybe In The Next (INST)
19. Terrestrial Paradise (INST)
20. Hollow Dance (INST)
21. Because of You (INST)
22. Sample Answer (INST)
The Dragalia Lost Song Collection will release on June 30 in Japan. Play-Asia has pre-orders here.
Leave a Reply