Dragon Marked for Death delayed to January 31, physical release in the west confirmed, more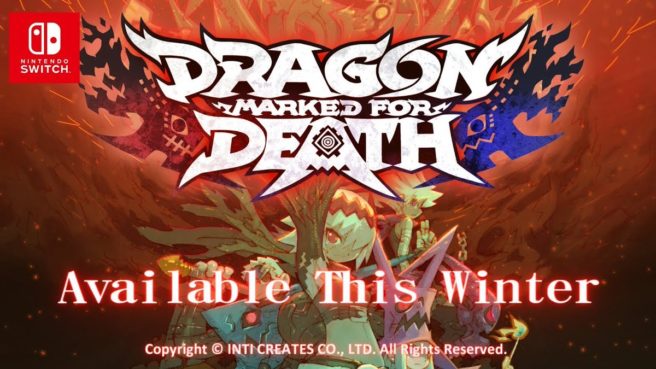 Dragon Marked for Death will no longer be releasing on December 31 as originally planned. Instead, Inti Creates announced today that it will launch on January 31.
Dragon Marked for Death fans will be able to purchase the game in the form of two separate packs. A physical release will also be taking place around the same time as the digital version, courtesy of Nighthawk Interactive.
Here's the full roundup of news for Dragon Marked for Death:
Anime-style PV Revealed
Considering it was at Anime NYC, Inti Creates revealed a new anime-style PV for the game, bringing the characters to life in a whole new way!

Price Point and Means of Sale
Dragon Marked for Death will be sold as two separate packs for $14.99 each. The Frontline Fighters pack will contain the Empress and Warrior characters, which are more friendly to beginners, and contain DPS and tank type characters that are archetypes to any action game. The Advanced Attackers pack will contain the Shinobi and Witch characters, which are more technical characters with higher skill ceilings that are geared towards more advanced players. Players can purchase whichever pack they like first, and then can purchase the other pack as DLC should they choose to do so. For example, if you buy the Dragon Marked for Death pack with the Empress and Warrior, you can purchase the Shinobi and Witch pack as DLC, and vice versa.

Physical release confirmed
Inti Creates will be working with publishers Nighthawk Interactive to produce a retail version of Dragon Marked for Death that will have all four characters available. They plan to have it out as close to the digital release date as possible.

Release Date Moved to January 31st, 2019
In order to create a smaller gap between the release of the physical version and the digital version, the game's digital release was pushed back a little bit to January 31st from its original December 13th release date.
Source: Inti Creates PR
Leave a Reply