Dragon Quest Builders 2 is the next Switch Online Game Trial in North America and Europe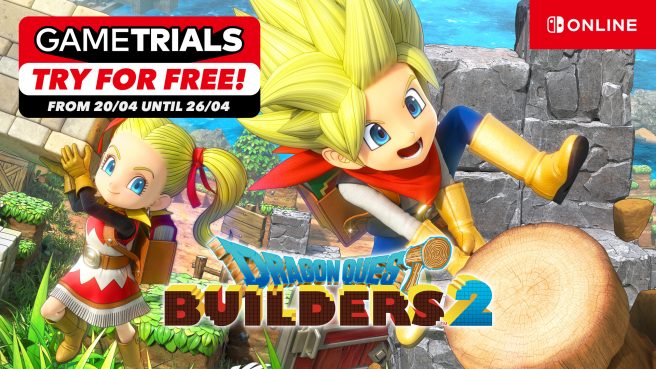 Original: Nintendo has announced that Nintendo Switch Online members in Europe will be able to try out Dragon Quest Builders 2 as part of their latest Switch Online Game Trial. Players will be able to experience the entire game for free during the trial's duration, from April 20th to April 26th. All progress will also carry over to the full game.
Here's some more information about the game:
BUILD YOUR OWN WORLD OF ADVENTURE!
Set out on a block-building quest to defeat the Children of Hargon and bring the joy of creation back in DRAGON QUEST BUILDERS 2 on Nintendo Switch!

Create your own unique character and embark on an epic journey with your feisty companion Malroth! As you travel across the land, you'll meet a cast of colourful characters and help restore their homes to their former glory.

You can even join together with other builders to collaborate on your own amazing creations. Don't worry – expect a healthy host of slimes, badboons and other familiar Dragon Quest monsters to battle along the way!

Jam-packed with new features and improvements, this adventure is sure to delight both fresh-faced builders and Dragon Quest veterans!

TRIUMPH OVER DESTRUCTION
After narrowly escaping the clutches of the nefarious Children of Hargon, you wash up on the Isle of Awakening and meet the mysterious youth Malroth. Together, you'll set out on a grand adventure to rebuild the world and strike back against this destructive cult of calamity.

As you trek between different islands gathering precious resources and rebuilding settlements destroyed by the Children of Hargon, you'll improve your skills as both a builder and a warrior.

EXPLORE AND SHAPE THE LAND
With DRAGON QUEST BUILDERS 2's new fast-travel system, zip around the land to wherever your building skills are needed! The sea and the sky are open to you as well, thanks to underwater exploration and the Windbreaker cape. Should you want a break from building, indulge your green fingers with a spot of gardening or farming – your villagers can even help you out!

Once you've gained enough experience out in the field, you can combine forces with up to three other builders online or in local wireless play.
We've yet to hear if this will also apply to North America or other regions, but we'll let you know if any further news is announced.
---
Update: This has now been confirmed for North America as well.
Leave a Reply