Dragon Quest X Offline info covers Puku Land Continent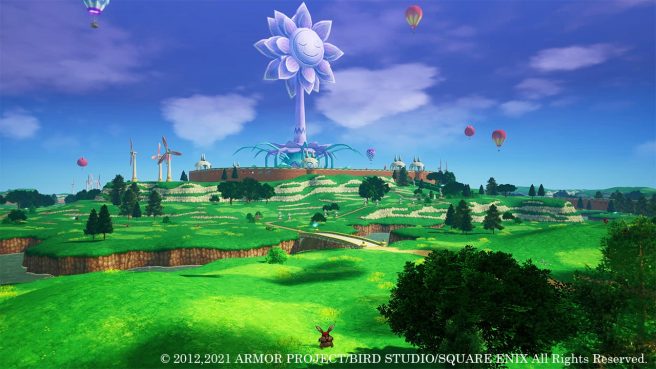 Square Enix has provided an update on Dragon Quest X Offline, offering new information about the Puku Land Continent. A bunch of screenshots are in as well.
Here's the full roundup, courtesy of Gematsu:
Topography
– The majority of the land has a blessed climate
– Meadows present with flowers blooming all throughout
– Flowers are also a staple of Puku Land Continent
– Many buildings themed after them as well
– Since the climate is warm and calm, there are many tranquil, green areas
– There are also places that look like confections, from ball-shaped mountains to soda springs, cake-shaped tents, etc.
– Silver Hall in the center of the continent, which is a magical place where everything is dyed silver
Poppets
– A race that loves laughing and dreaming, and has a passion for creating fun
– Despite their buoyantly small form, they're more curious than any other race
– There is of course a village where comedians gather
– Poppets host events like performance and circus shows
– They even obsess over fashion, and some have opened stores in pursuit of style
Villages and Towns
– Puku Land Continent features a bounty of fairy tale-like townscapes
– The Glistening Great Wind Mill and capital city Megistris are a couple of the world's leading tourist attractions
– Pukulett Village: A village that loves entertainment and even has a veteran performer as its mayor; this year is its 10th Entertainment Grand Prix, its staple event
– Olphea Town: A town with a wealth of recreational facilities, including circus tents and instrumental attractions like a big horn
– Glistening Great Wind Mill: The symbol of Puku Land Continent, erected atop a small hill; shaped like a giant flower
– Megistris Fortress / City: A beautiful city lined with diverse buildings; ruled by the Megistris Kingdom, which is 500 years-old
Characters
– In addition to the unique characters in Pukulett Village and Olphea Town, you will also meet the mysterious magician Fostale and your party member Ragus in Megistris Kingdom
– Pirippo: A young man aiming to become a comedian, who you will meet in Pukulett Village; teamed up with the winner of the town's Entertainment Grand Prix
– Pudin: A fainthearted boy who lives in Pukulett Village, who immediately cries when in trouble; dreams of becoming a comedian
– Ringleader Nablett: The mayor of Olphea Town,ringleader of Nabnab Grand Circus; residents have great respect for him
– Detective Pakure: A detective who works to keep the peace in Olphea Town; has a strong sense of justice and tends to make assumptions
– Ragus: Prince of Megistris Kingdom; shy and rarely shows his face in public, but embarks on an adventure with the protagonist following a certain event
– Fostale: A mysterious hero said to have saved the continent 500 years ago; said to have the power to predict the future
We have a new batch of Dragon Quest X Offline screenshots showing off the Puku Land Continent below.
Dragon Quest X Offline is releasing for Switch in Japan on February 26, 2022. A western launch has not been announced at this time.
Leave a Reply