Dragon's Lair Trilogy physical pre-orders open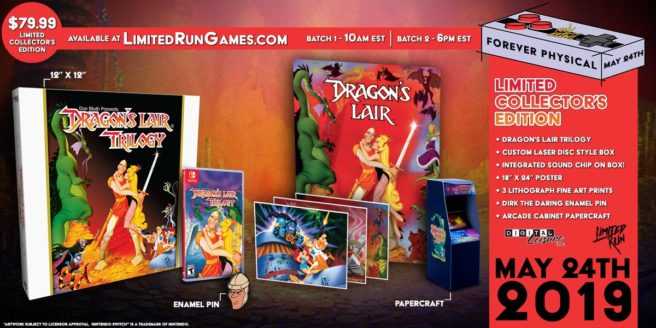 Limited Run Games has opened pre-orders for the physical version of Dragon's Lair Trilogy. Along with a standard copy, there's a collector's edition up for grabs.
The collector's edition includes:
– A beautiful, premium, individually numbered 12 x 12 inch LaserDisc inspired box with a pull-out drawer
– Integrated sound chip – when you pull out the drawer containing the game, Dragon's Lair's iconic attract mode sound plays
– A 1.5 inch black nickel enamel pin featuring Dirk the Daring's face
– Three gorgeous frame worthy lithographs featuring art from each game
– A papercraft model of the original Dragon's Lair arcade cabinet
– An 18 x 24 inch poster featuring art from Dragon's Lair
– Printed foil LaserDisc folder which stores the poster, lithograph, and papercraft
You can pre-order Dragon's Lair Trilogy from Limited Run Games here.
Leave a Reply