Drawn to Life: Two Realms update out now (version 1.2), patch notes and trailer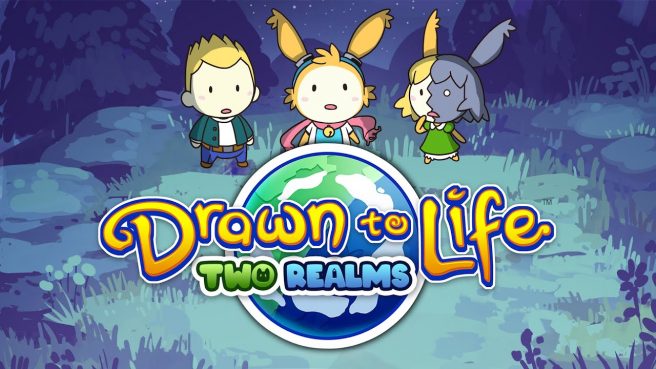 A new 1.2 update for Drawn to Life: Two Realms was made available this week. It features additional content, including more stickers, stamps, templates, and levels.
The full patch notes are as follows:
Fixed Bugs:

Fixed a bug where an airplane mode prompt appeared on startup when playing in airplane mode
Left/Right hand/leg was wrongly marked on the draw tool
Fixed a bug where you could move around the cursor after triggering a loadout save, so the preview would show up in a different slot than the one it was actually saved in

New Stickers:

Head

Female Rapo Mask (Miles)
Gas Mask (King Miney)
Googly Eyes (Snyder)
Surgical Mask (Aly)
Ninja Mask (Heather)
Pirate Hat (Cumulus)
Shepherd Mask (Kuragekko)
Snowman (Tony)
Ice Hat (Aly)

Back

Santa Bag (King Miney)
Day Pack (Tony)
Shield (Bubba)

Feet

Pink Slipper (Heather)
Snow Boot (Frank)
Hiking Boot (Bubba)
Boot with Stirrup (Snyder)

Arms

Spikes (Cumulus)
Spike Gauntlet (Kuragekko)
Mittne (Miles)

New Stamps:

Pattern 02
Gear 02
Gear 02
Evil r
Evil l
Bubble
Chisel
Pattern 03
Cow
Flower 02

New Templates:

Adventurer
Baker
Baseball player
Bunbun
Detector
Goldfisher
Gooeyalien
Goofeyalien
Goose
Hazmat
Monkey
Mwrawr
Scary alien
Soccertstar
Space explorer
Sportstar
Superhero
Traditional alien
Veggie

New Levels:

King Miney Challenge
Frank
Snyder Challenge
Aly Challenge
Bubba
Cumulus
Heather Challenge
Kuragekko
Miles Challenge
Tony Challenge
Watch a trailer showcasing the new Drawn to Life: Two Realms update below.
Leave a Reply