Dreamscaper getting a physical release on Switch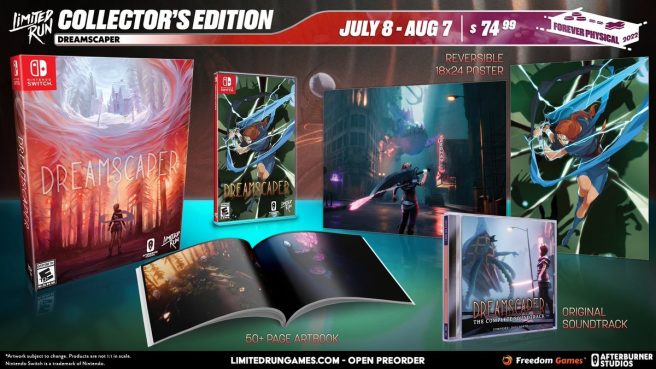 Thanks to Limited Run Games, Dreamscaper will have a physical release on Switch.
Fans can choose between two options: a standard version and collector's edition. With the collector's edition, you'll receive a copy of the game, a reversible poster, 50-page artbook, and original soundtrack.
Dreamscaper first launched on Switch until August. Thus far, it has only been made available digitally on the eShop.
Here's some information about the game:
Dreamscaper is an endlessly replayable Action Roguelike with a waking/dreaming gameplay cycle. By night, delve deep into your subconscious, facing nightmares in an ever-changing world filled with unique items, abilities, and challenges. By day, explore the city of Redhaven, build relationships and unlock permanent upgrades in order to take on the next dream stronger than ever.

Key Features

Lean into the nightmares and make the rush of permadeath your ally.
Use lucid powers to manipulate the elements, warp space, and even control time itself.
Battle bosses that embody Isolation, Fear, Negativity, Loss, and more.
Upgrade a multitude of surreal items and discover powerful artifacts.
Live Cassidy's waking life and uncover the mystery of her story.
Pre-orders for the physical release of Dreamscaper begin on July 8, 2022. Limited Run Games will be taking reservations here.
Leave a Reply