Eiyuden Chronicle planned for next-gen Nintendo hardware, dev talks delay and more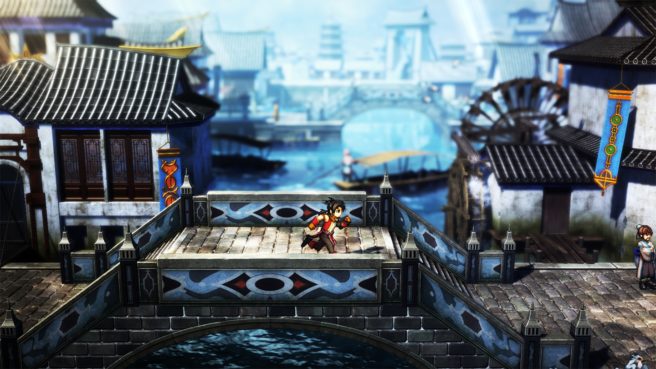 Following the reemergence of Eiyuden Chronicle: Hundred Heroes, developer Rabbit & Bear Studios took to Kickstarter and published a Q&A to address some possible fan concerns.
One notable topic concerns platforms. There has been talk about possibly bringing Eiyuden Chronicle to Switch, but it looks like that might be out the window now. Rabbit & Bear Studios says that the game is planned for Nintendo's next-gen hardware. It's unclear if the situation would change if something such as a Switch upgrade were to be introduced.
The Q&A also touches on the delay from 2022 to 2023. Aside from having to create a large amount of content, it also sounds like the team has been impacted by the coronavirus.
Here's the full Q&A:
Q: What platforms will Eiyuden Chronicle: Hundred Heroes release on Day 1?

A: As originally pledged to the backers the game will be released on Xbox One, Xbox Series X|S PlayStation 4, PlayStation 5, Steam, Epic Games Store, and Nintendo's Next Generation Hardware.

Q: What is Eiyuden Chronicle: Rising, and will it affect the development of Eiyuden Chronicle: Hundred Heroes?

A: Eiyuden Chronicle: Rising is the last stretch goal cleared and due to the overwhelming support from backers we were able to partner with Natsume Atari to create this companion game. We specifically chose to work with a separate developer so that development on Eiyuden Chronicle: Hundred Heroes would not be affected by one developer working on two games. The thinking is it would also allow backers and other consumers the chance to experience the Eiyuden Chronicle world sooner as they are waiting for Eiyuden Chronicle: Hundred Heroes to be completed.

Q: With the project now having a publisher and getting major first party support, I feel like my backer contribution is meaningless.

A: That is just not true. As stated from the beginning of the campaign, we were talking to multiple publishers in order to have enough funding to make a game the size of Eiyuden Chronicle: Hundred Heroes. The reality is that every publisher needed a proof of concept, that is to say that without showing that there was an active fan base that wanted this game, we couldn't have received any additional support to make a proper game. The reality is that most JRPGs can easily cost more than 50 million dollars to make so we really needed as much support as possible. And the reality is this game has truly only been possible through the backers' support.

Q: Does a 2D (or 2.5D) game really require that much money to make?

A: First of all, it costs a lot of money to make a large-scale RPG, whether it is 2D or 3D.

Based on our current plans, we need a team of more than 50 people to develop Eiyuden Chronicle: Hundred Heroes.

In addition, the game will require hand-drawn pixel art and animations for more than 100 main characters, other sub characters, and enemies in many scenes.

Furthermore, creating pixel art at the quality of today's monitor resolutions can be as time consuming and costly as 3D art or more to create a single character asset.

For all of these reasons and more, the combination of Kickstarter funding and other support from multiple parties made it possible for us to develop this game, but without a successful Kickstarter campaign none of this would have become a reality.

Q: I don't like the fact that some people will get the game for almost free on Game Pass whereas I had to pay a lot of money on Kickstarter

A: We understand this sentiment but want to be very clear, as a backer you are getting a few very important things:

・Your name in the staff roll

・All the DLC for free (and trust me, this is something most publishers DO NOT WANT TO DO)

・A permanent copy of the game that you own versus only being able to play it while it is on the service.

This is a very important difference. We own lots of blu-rays but still watch movies on Netflix. If there is a good movie you want to watch over and over, it's always better to own it. We plan to make this game something backers will be happy they own.

・Your voice matters -> Not only do you get to participate in the campaign and see a ton of behind-the-scenes, mid-development stuff, but you even got the chance to vote on key characters, talk directly with the developers and collaborate with the development of the game on a level most gamers never get the chance to. Certainly that experience is worth something.

・You made history -> The hopes are that people won't want to keep a good game all to themselves but want to share it. Being on Game Pass has allowed us to create more content and increases the likelihood of doing sequels and really expanding on the world. Murayama has many stories to tell, and it would be a shame to limit this game's future potential.

Q: The game is delayed? Is this because of a publisher choice or the Game Pass deal?

A: Absolutely not. As Murayama stated, there is just a ton of content and adjusting to the challenges presented by Covid-19 has been difficult. We hated delaying the game and there were discussions about when to make that announcement, but we wanted to be up front with everyone as soon as possible so we explained the delay in last month's update. We have scheduled the DLC and any other production heavy content in a way as to not create delays as best we could but even still 100 characters being built in a hybrid style requires some prototyping and creative back-and-forth that has created a delay and for that we are truly sorry.

Q: I feel like Rabbit & Bear are being influenced by publishers and other big companies so I want a refund

A: This isn't the case. The creative design is, as it always has been, led by Rabbit & Bear. We have done our best to be transparent wherever possible and the reality is these partnerships not only allow us to provide more content and an even richer story, they give us a good chance to expand the franchise so that potential sequels can be created. It's important to note that if publishers were influencing this, we would be trying to ship the games sooner, not later, and not adding more content. 505 Games is actually ok with going later and supports adding more features. As far as the platforms we are supporting nothing has changed. As far as the game we are making that has only gotten bigger and better with more content. We don't feel allowing more people the chance to play the game goes against any of the commitments we have made so currently we have no plans to issue refunds.
Leave a Reply