Etrian Mystery Dungeon – photo of the launch bonuses, Protector class trailer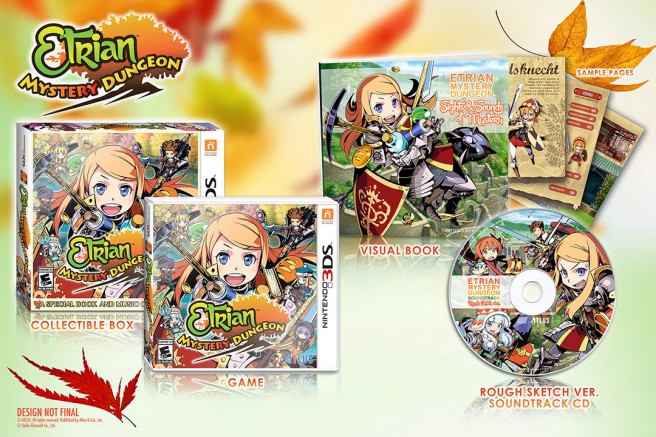 Atlus has shared new English assets for Etrian Mystery Dungeon. First up is a beauty shot of the "Sights & Sounds of Mystery" bonus, which is available in the game's launch edition.
Here's an overview as to what's inside:
Secure your ownership of the North American-exclusive collectible outer box that contains a limited edition CD-book package. The "Rough Sketch Ver." soundtrack CD contains six "rough" versions of the musical themes found in Etrian Mystery Dungeon. The 28-page book contains art and information to aid you in cultivating the best party to help you triumph inside the mystery dungeons.
Next, we have an English trailer showing the Protector class:
And here's the overview:
Let me paint a nightmare scenario for you. You've just successfully cleared a floor in a dungeon, found an awesome weapon in a treasure chest, got tons of gold and crafting drops from monsters and are mere steps away from the exit when a group of enemies respawn and tear your party to shreds; the hard-earned gold, experience, and loot lost forever to the sands of time.

Well worry no more, because that's why Etrian Mystery Dungeon has the Protector class! This battle tank uses their high DEF stats and tower shield to create an immovable object of damage-soaking toughness. Combining provoking taunts with ability binds, a well-leveled Protector is key to surviving against rare monsters, bosses, and worse!
Source: Atlus PR
Leave a Reply