Etrian Odyssey V gets first review in Famitsu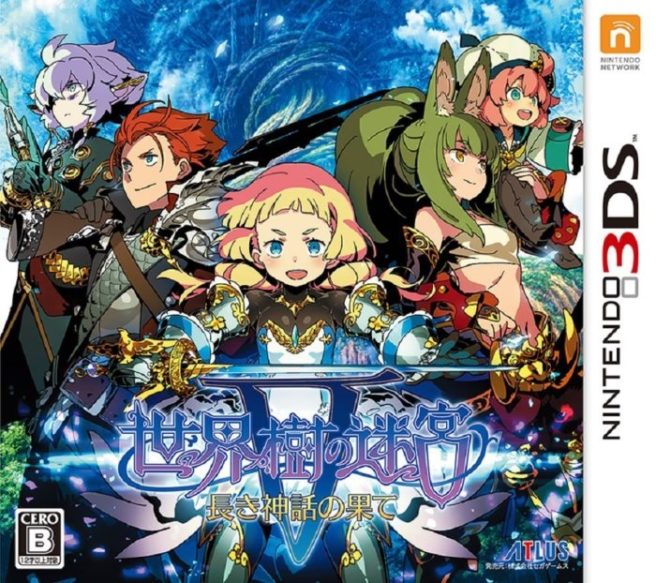 One of the big new releases in Japan this week was Etrian Odyssey V. On Thursday, Atlus finally brought out the 3DS title.
Etrian Odyssey V's launch was accompanied by a review in Famitsu. From four editors, it earned scores of "8", "9", "9", and "9". Adding it all up, that's 35 out of 40.
We have a complete translation of Famitsu's Etrian Odyssey V review. Head past the break to read it in full.
Reviewer 1 – 8

It's fun to create and train a character based on your personal taste and it is interesting to explore while mapping a dungeon, so the charm of the series is as strong as ever. Moreover, this title feels really fresh due to adding the concept of race and reforming classes and appearing monsters. Some elements that were in the previous game are missing, like sailing and the airship, but because of that the game is specialized in the main dungeon exploration and you can immerse into it so that you forget time.

Reviewer 2 – 9

I'm glad that the degree of freedom has been increased a lot in the character creator, as you can finely tune hair, eye and skin color in addition to the added race element. Exploration hasn't seen big changes in fundamental parts, but classes have been renewed, so you can enjoy the adventure with a fresh feel. There are plenty of mini events that occur inside a labyrinth and it is good that they add some thrill and excitement. Learnable Master Skills differ because of the "two names" system, so it is nice that training is worth the trouble.

Reviewer 3 – 9

There are plenty of mini events that occur in labyrinths. Obtained experience points and items change based on your behavior, so they are exciting every time. Such events in labyrinths, conversations with people in towns and the world have been created carefully, so you can have a real feeling of being an adventurer. The level of freedom in character customization is also high. Skills have the two aspects of race and class, so the breadth of training has been expanded. It is also easy to proceed smoothly in combat.

Reviewer 4 – 9

This title has wide breadth and various gameplay that every player can appreciate, like character creating that has finer settings than up until now, creating a party based on class and race combinations, and character customization by the means of skills and "two names" system. On the other hand, there are lots of things to remember and it also feels a little complicated. All sorts of mini events occur inside labyrinths and it is a great mechanism as it makes it hard to take things slowly. Overall the tempo is good and you can enjoy the game smoothly.
---
Thanks for making it to the end of this post! If you use any of this translation, please be sure to properly source Nintendo Everything. Do not copy its full contents.
Leave a Reply