Fall of the Porcupine release date set for June, new trailer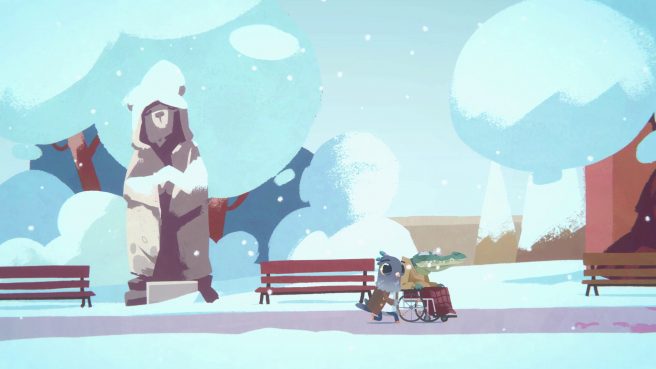 Publisher Assemble Entertainment and developer Critical Rabbit today revealed a final release date for Fall of the Porcupine. The game will be ready to go for Switch on June 15, 2023.
Fall of the Porcupine was first made known for Switch last August. It was previously given a vague 2023 launch window.
For more information about the game, read the following overview:
It's been quite the winter for the town of Porcupine. The many, many feet of snow left its residents confined to their fireplaces and coziest blankets as they enjoyed the holiday season with friends and family. But, the time for hibernation is over for Porcupine's residents, as there is a big day on the horizon! Join the newest resident of Porcupine, Finley, as he seeks to find his way through an ever-changing and emotional new chapter of his life.

Stepping into the town of Porcupine for the first time, players will take to the worn and well-loved scrubs of Dr. Finley, the newest fledgling medical practitioner to step through the doors of the Porcupine hospital. At first glance, the town and its people hold up to its quiet, small-town vibe. But as you experience the heart-tugging story of Fall of Porcupine unfolds, you'll see that not everything is as it seems. Not everyone is honest with themselves and others, the healthcare industry is not as illustrious as it seemed in medical school, and the work/life balance Finley strives toward might be harder to achieve than he could have ever imagined.

Key Features

Where the Wild Things get their Healthcare: Build relationships with the eclectic and intriguing citizens of Porcupine through deep and engaging conversations. Watch your words, as who knows just what might get you on someone's bad side.
Soft and Sensitive: Finley's adventures (and misadventures) lead to sensitive territory dealing with themes like death, illness, mental health, and grief. Fall of Porcupine sensitively tackles each of these with approachable storylines, relatable characters, and resonating dialogue.
A Journey for the Whole Family: Fall of Porcupine's tightly-built gameplay and controls means that anybody can pick-up and play with ease. No matter if you're a first-time player, or a 2D side-scrolling expert, Fall of Porcupine will make you feel right at home.
Oh, the Places You'll See (and Hear): The wonderfully illustrated world of Fall of Porcupine will take you through a beautiful world of color and wonder, while the top-tier soundtrack will resonate every moment from the tips of your eardrums to the bottom of your heart.
View a new release date trailer for Fall of the Porcupine below.
Fall of the Porcupine will be available digitally on the Switch eShop. A demo for the game is out right now.
Leave a Reply