Fallen Legion: Rise to Glory announced for Switch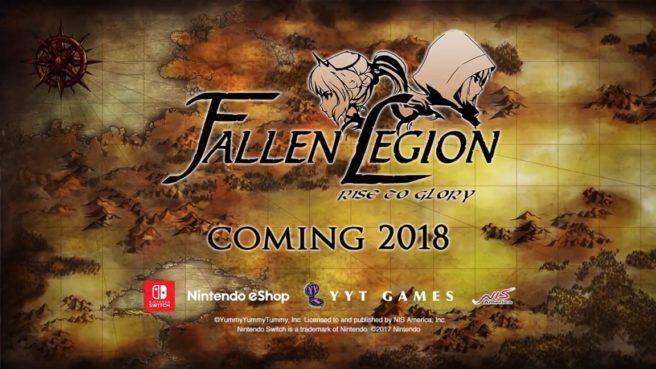 NIS America is bringing the action role playing game Fallen Legion: Rise to Glory to Switch, the company has announced.
Fallen Legion previously released on the PlayStation 4 and PS Vita as their own individual games, Sins of an Empire and Flames of Rebellion respectively. On Switch, both stories will be combined into one package.
Fallen Legion: Rise to Glory launches on Switch in 2018. View some additional information and the announcement trailer below.
About the Game:

Fallen Legion: Rise to Glory – Chronicles the story of Legatus Laendur and Princess Cecille. What side will you choose
to decide the fate of Fenumia?

Fallen Legion: Sins of an Empire – Join Princess Cecille (and a saucy, talking grimoire) on her journey home as she
fights hordes of monsters and a coup led by Legatus Laendur. A crumbling empire is in your hands. Will you restore
glory to Fenumia?

Fallen Legion: Flames of Rebellion – Legatus Laendur, a brilliant tactician beloved by the people, fought on the
frontlines the Fenumian Empire, but when he discovers why it is rotting from within, he vows to overthrow the royal
family. Fenumia devoured his homeland – will you fight to reclaim it?

Key Features:

– Reclaim the World of Fenumia – Follow Princess Cecille or Legatus Laendur and experience the stories of Sins of an
Empire and Flames of Rebellion.
– A Legion Under Your Command – Control four characters simultaneously and master devastating combo attacks in
furious real-time battles.
– Ascend to the Throne – While clashing with rebel armies, make split second decisions on how to rule your kingdom.
– Will you side with the mercenary Prime Legion, the palatine Council of Princes or the cabalistic March Congress?
– Magnificent 2D Artwork – From the fangs on the game's menacing manticore to each brick in Fenumia's castle, all of
the artwork has been hand-drawn to create a stunning world.
Source: NIS America PR
Leave a Reply