Fatal Frame: The Black Haired Shrine Maiden Famitsu review translated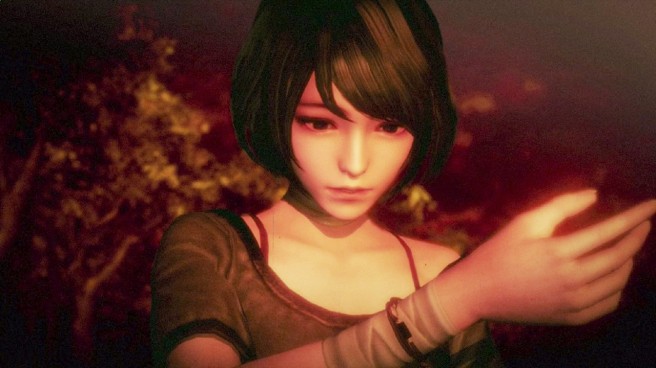 Last week's issue of Famitsu contained the first verdict of Fatal Frame: The Black Haired Shrine Maiden. Four reviewers gave the game "7", "8", "9", and "9" for a total of 33 out of 40.
We now have the different texts translated from each if the reviewers. If you're curious as to what was said, head past the break.
Reviewer 1
The familiar attacking item of the series, Camera Obscura, is a good match for the Wii U GamePad. It feels like you are looking through a big camera. Taking photos by tilting the GamePad is fun and adds plenty of feeling to be there. The controls are sluggish being tuned to a horror game, but on the other hand, it does add the feeling of fear. The costumes which can be obtained while playing are quite radical so do they also have an effect to neutralize scariness!?

Reviewer 2

The mechanism to use the Wii U GamePad as a camera to take pictures is good in creating the sense of being there. The battle system is exciting and it involves capturing vengeful spirits by moving and tilting the GamePad at the right moment. The scenery which is influenced by water has good atmosphere and sexy elements like seeing through wet clothes are nice. Although the poor maneuverability of the character's movement and viewpoint incites fear, at the same time it feels irritating.

Reviewer 3

The game makes great use of the Wii U's GamePad. It is unique in the sense it is both your map as well as your camera. As the game is built around the potential failure to take a picture at the right moment, it adds a lot to the atmosphere and story. The player character stands out as a girl with sexy stances and beautiful expressions, and while this makes it less horrifying, it is something that those who appreciate horror movies can look forward to.

Reviewer 4

As a ghost may appear at any time and you don't want to miss your chance to take the picture, it is necessary to have the Wii U GamePad ready in your hands. Since the GamePad is used as a Camera Obscura in fights, battles have greater sense of being there. There is an abundance of things that cause fear and that's great. It is of course recommended to use headphones and if possible, play in a pitch black room, stare at the GamePad, and have a thrilling time!
Leave a Reply