Fatal Twelve getting a physical release on Switch, including collector's edition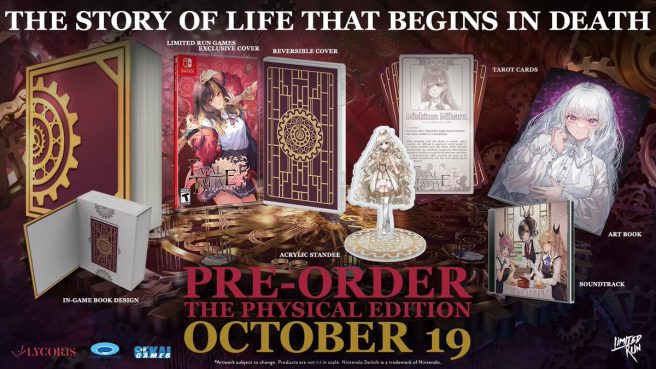 Fatal Twelve, a visual novel that previously landed on Switch earlier this year as a digital download, is now getting the physical treatment. Limited Run Games will be handling distribution.
Fatal Twelve will have a standard release and collector's edition. If you opt for the latter, you'll receive a Divine Book game holder, exclusive box art, tarot cards, a soundtrack CD, a new art book, and a standee.
Here's an overview of the title:
Watch the thrilling story unfold as twelve unique characters, gathered by the Goddess of Destiny, compete against each other for a chance to undo their untimely demise.

Introducing tons of events and CGs exclusive to the console edition!

The original dev team has prepared a whole array of events and CGs exclusively for the console edition. On top of that, some of the existing visuals have been remastered to make this gripping tale all the more compelling!

Available in two languages!

The text can be set to Japanese or English (audio is Japanese only). This includes in-game text, options, and the digital manual. Language settings can be changed at any time.

Play using only the touch screen! Play with one hand!

Play in handheld mode with the Joy-Con attached, or detach them and play with just the touch controls!
While in tabletop mode or TV mode, everything can be controlled using only the Joy-Con (R), allowing you to play with only one hand! Also available for the Nintendo Switch™ Lite. (A separate Joy-Con (R) is required to play with one hand.)

Summary

One day, Shishimai Rinka dies in an explosion—yet she finds herself continuing to live her ordinary life as if nothing had happened at all. That is, until a few days later, when she encounters the Goddess Parca in the dream world.

"Good evening, my lovely little slaves to fate."

Rinka discovers that she is one of 12 people the Goddess has invited to her game. A game that could undo their deaths. In this maelstrom of life and death, Rinka must face a myriad different emotions, as well as the truth behind her own demise. What will her final decision be…?

Gameplay

Gameplay in this visual novel involves reading through the story while making choices at certain key points. Different decisions may lead to different outcomes, story branches and endings.
Fans can pre-order the physical versions of Fatal Twelve starting on October 19. Limited Run Games will be taking reservations here.
Leave a Reply