Fell Seal: Arbiter's Mark update out now (version 1.6.0), patch notes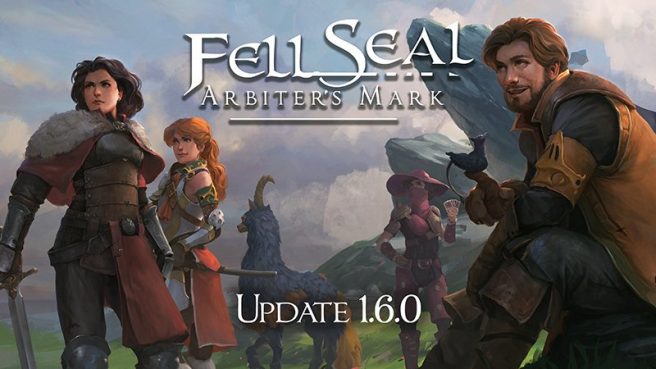 Publisher 1C Entertainment and developer 6 Eyes Studio recently updated Fell Seal: Arbiter's Mark to version 1.6.0. This is the final patch for the turn-based tactical RPG.
The version 1.6.0 update for Fell Seal: Arbiter's Mark is highlighted by two new monsters, the Draekon and Knifer. Continue on below for the full patch notes.
New Content:

Draekon/Knifer:

Adding 2 new monsters to the content of Missions and Monsters. The Draekon and Knifer. They have their own sprites, abilities, portraits, Bzil versions, etc.

Missions:

Adding 2 new missions tied to the Draekon and Knifer monsters.

Hunts:

Adding 2 new hunts featuring unique versions of the Draekon and Knifer monsters.

Bug Fixes:

Hellhunds:

Could use the wrong graphic for a specific variant. Fixed.

Eruptor:

There was an issue where the buff wouldn't reset correctly under certain circumstances. Fixed.

Change Appearance:

The option at the guild would be unavailable if the player had no human recruits, even if they had monster recruits. Fixed.

Buffs at the start of the turn:

Buffs granted by equipment at the start of the turn wouldn't show on the information panel until it was refreshed (even though they would be correctly enabled). Fixed.

Level Up:

When gaining a level in combat, the current HP wouldn't be increased by the amount gained to max HP, which would make certain passives tied to "having full HP" less attractive. Changed things so the current HP is increased by the same amount as HP gained for the level.

Guttersnipe:

Pet was incorrectly increasing bleed damage. Fixed. Also, when both Guttersnipe and Polliwog were out, only Guttersnipe would apply its debuff at the end of the turn on adjacent targets. Fixed.

Autosave:

The autosave before battle could fail to save new consumables that were crafted during battle setup, while still using the ingredients. Fixed.

Maps:

Fixing a few layering issues in various maps.

Taming:

If the target was asleep, the sleep effect could remain visible after taming them. Fixed.

Misc:

Fixing small miscellaneous issues.
Leave a Reply