Final Fantasy Pixel Remaster sales surpass three million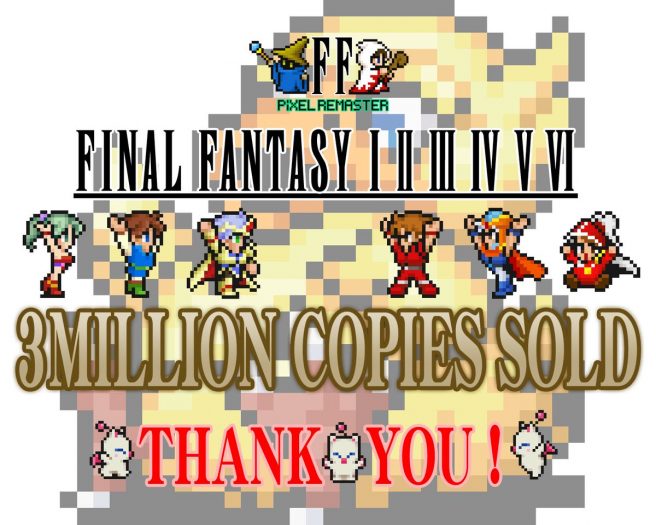 Sales of the Final Fantasy Pixel Remaster series have surpassed three million units, Square Enix just announced. That's up from the two million milestone announced back in May.
Today's number applies to the combined performance on Switch, PlayStation 4, and mobile. It should be worldwide sales as well.
The Final Fantasy Pixel Remaster games started to roll out in 2021. Then in April, the full set was made available on Switch. It includes updated versions of the first six numbered titles in the Final Fantasy series.
Here's some additional information:
Change soundtracks: The Pixel Remaster series features utterly superb new orchestral arrangements of Final Fantasy I – VI's soundtracks. However, we know some of you may want to recreate the original experience of playing these games, so you'll be able to switch between the original and rearranged soundtracks.

Change fonts: The console release of Final Fantasy I – VI gives you the option to switch between two different fonts: the default font and a new pixel-based font that recreates the feel of the original games.

Turn off random encounters: Sometimes you just want to explore in peace, so a new feature in the Pixel Remaster games lets you turn off random encounters completely. This means you can roam the world without being harassed by monsters. That also means you won't get stronger, so be careful how you use it…

Adjust experience: Speaking of getting stronger, want to speed things up a little? Boost features let you adjust the experience gained by up to four times. Perfect if you want an easier run through the games.
Final Fantasy Pixel Remaster can be purchased now on the Switch eShop.
Leave a Reply