Fire Emblem Heroes becomes first Nintendo mobile game to hit $1 billion in revenue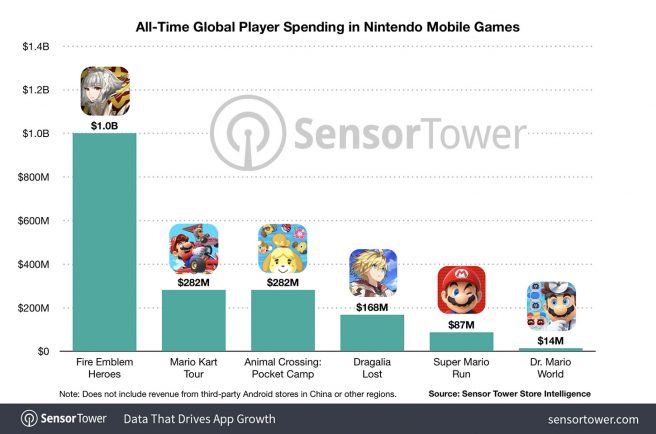 Sensor Tower is reporting that Fire Emblem Heroes has surpassed $1 billion in lifetime global player. It's the first Nintendo game on mobile to do so.
Mario Kart Tour is Nintendo's second most successful mobile title having generated $282 million. Animal Crossing: Pocket Camp is in third at $281.6 million. Thus far, Nintendo's mobile games have generated over $1.8 billion from player spending worldwide.
Fire Emblem Heroes downloads sit at 17.8 million installs, or 2.7 percent of the total. Super Mario Run has seen 310.7 million downloads, or roughly 47 percent of the total. Mario Kart Tour downloads stand at 227.2 million and Animal Crossing: Pocket Camp is at 65.4 million.
Fire Emblem Heroes has seen the biggest success in Japan where it has generated $540.6 million in the country (and 8.4 million downloads), or 54 percent of total player spending. The United States is next with 32.4 percent of revenue (and 26 percent of downloads), followed by Canada with 3.2 percent.
On Google Play, the game has made $583.7 million, or 58.3 percent. The App Store accounts for $417.3 million, or 41.7 percent of player spending. The two platforms have split downloads at 50 percent each.
Fire Emblem Heroes launched on mobile back in 2017 and can be downloaded for either iOS or Android.
T
Leave a Reply