Fire Emblem Heroes: Three Houses content, Book III movie, tips & tricks video, English Twitter account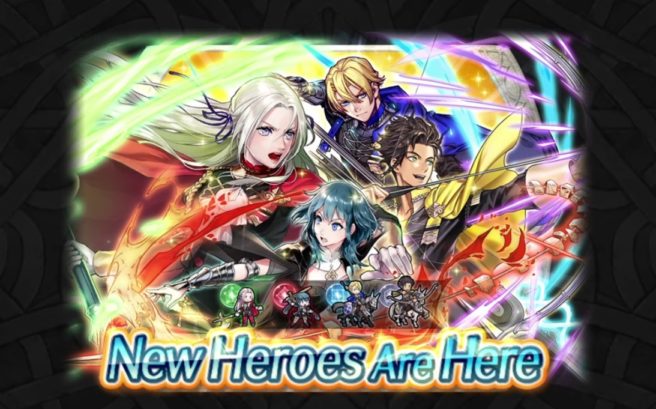 We've got a ton of Fire Emblem Heroes news for you today – first of all, lots of content from Fire Emblem: Three Houses, which will be released this Friday, has been added to Heroes. The Three Houses Summoning Focus is available starting today till August 7. The 5-star focus units are Byleth: Proven Professor, Dimitri: The Protector, Edelgard: The Future and Claude: The Schemer.
A new main story chapter, Book III, Chapter 9: Cohort of the Dead featuring the new Heroes has also been added. As always, there are time-limited quests centered around these new story missions that allow you to earn even more orbs. A new log-in bonus rewarding you with orbs has also started today and will run until August 5.
Three new castle designs modeled after the three houses (Black Eagles, Blue Lions and Golden Deer) have been added to the game.
If you want to get to know Byleth, Edelgard, Claude and Dimitri better, then consider taking part in the Forging Bonds: Joining Forces event that will run from today till August 5. As always, equip certain accessories on your characters to increase the points you earn. Rewards include special conversations featuring the new characters as well as First Summon Tickets for the Three Houses Summoning Focus. For up to seven days during the event, you can also earn 2 orbs the first time you clear a map each day.
A new Aether Raids event has also started. Until August 7, you can earn Summer Aether Stones by completing quests, which you can then use to build special structures in Aether Raids themed after the three houses.
Not one, but two new Fire Emblem Heroes videos were uploaded by Nintendo today. The first one is an animated version of a pivotal scene from the story chapter added today:
The second one is a tips & tricks video from Nintendo Treehouse, giving advice on the four new heroes added today:
Finally, Nintendo and Intelligent Systems have opened up an official English Twitter account for Fire Emblem Heroes, which will post the latest news on the game. You can find it here.
Leave a Reply