First 4 Figures reveals Banjo-Kazooie Mumbo Jumbo and Crocodile Banjo statues, pre-orders open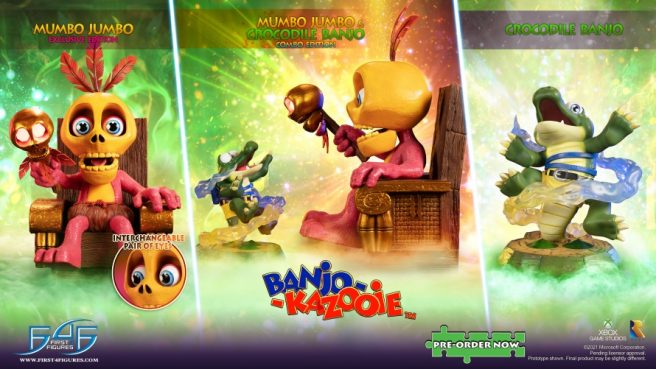 First 4 Figures has revealed more statues, this time based on Banjo-Kazooie. There's one planned for Mumbo Jumbo and another for the crocodile transformation.
Here's the official product description:
First 4 Figures is proud to introduce their latest resin collectible, Mumbo Jumbo. This is the second statue to release in the Banjo-Kazooie lineup.

Mumbo Jumbo is often found seated on his chair inside the Mumbo Skull hut, waiting for Banjo-Kazooie to arrive so that he can perform his mighty Mumbo Magic on them. The shaman uses his Zap Stick to perform his transformation magic on the bear and bird duo and, in turn, asks for Mumbo Tokens in exchange for his services.

One of the many transformations that Banjo-Kazooie undergoes in the original game is turning into a crocodile in the Bubblegloop Swamp level, which will allow Banjo-Kazooie to swim in the piranha-infested waters and challenge Mr. Vile in his mini-game.
Fans can pre-order the statues individually or as a set here. First 4 Figures has an estimated shipping window of Q2 2022.
Leave a Reply