First 4 Figures reveals Zelda: Breath of the Wild Daruk statue, pre-orders open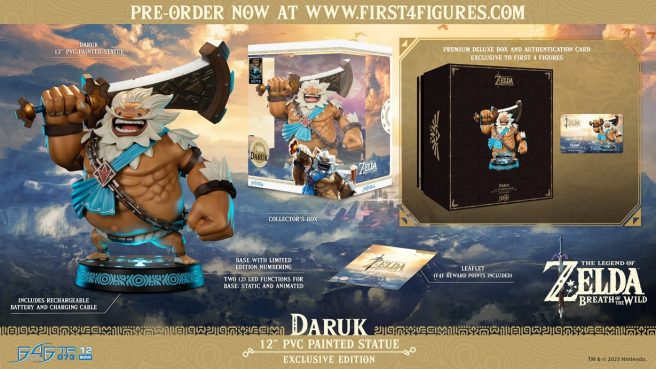 First 4 Figures has unveiled its latest statue based on The Legend of Zelda: Breath of the Wild, this time for Daruk. The other champions from the game previously saw the same treatment.
The high-quality PVC statue is modeled after the official artwork from the game, including a wide grin and his signature weapon, Boulder Breaker. On the base, there's a design featuring the Sheikah Eye symbol.
Fans can purchase the "Exclusive Edition", which contains two light-up LED modes (Static and Animated) in the base, and when activated, the Sheikah Eye symbol will glow blue. If it's set to Static mode, it'll be a steady blue. The Animated mode has pulsating. This edition also includes limited edition numbering on the bottom of the base, an authentication card, a USB-C cable, a rechargeable battery, and special exclusive premium deluxe box packaging with limited edition numbering.
You can get a closer look at the First 4 Figures Zelda: Breath of the Wild Daruk statue in the video below.
Pre-orders for the Zelda: Breath of the Wild Daruk statue are now open on First 4 Figures' website here.
Leave a Reply