First footage emerges from cancelled Epic Donald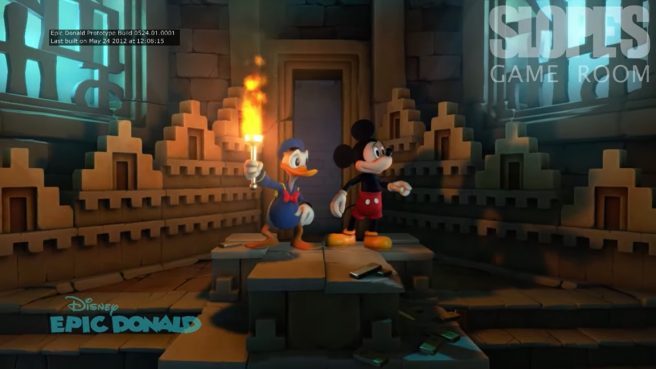 YouTuber Slope's Game Room has managed to secure the first footage from Epic Donald, which never came to be.
We first heard about the project in 2016. Disney and Junction Point originally planned to release a third title in the Epic Mickey series featuring Donald Duck, Duckburg, and more. In the end the game was cancelled after Disney Interactive Studios closed in 2016 and Disney itself decided to move away from self-publishing.
As for today's Epic Donald footage, it's only a few seconds long with the build dated from 2012 – the same year Epic Mickey 2: The Power of Two launched. Slope's Game Room says the video was sent in by an anonymous viewer, but doesn't elaborate any further. Despite being as short as it is, we'll take any footage we can get at this point.
You can see the full clip from Epic Donald (starting at 18:41) below. You can also find concept art here as shared in our post from 2016.
As we know, Epic Donald wasn't the only spinoff of the Epic Mickey series that Disney pulled the plug on. Something else we heard about in 2016 was Epic Disney Racers, which would have featured main Disney animated canon characters plus ones from Epic Mickey, including Mickey Mouse, Minnie Mouse, Oswald the Lucky Rabbit, The Mad Doctor, Scrooge McDuck & Huey, Dewey and Louie, and Cruella De Vil. You can read more about that here.
Leave a Reply