Flashback 25th Anniversary launches June 7 for Switch, collector's edition in Europe and Australia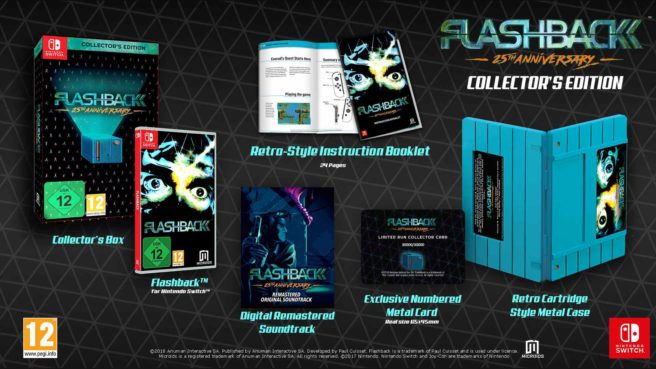 A couple of days ago, we came across a listing for Flashback 25th Anniversary on Amazon Germany. It was the first time we had heard about the Switch release since Microids' announcement last year.
Microids has now officially confirmed that Flashback 25th Anniversary is heading to Switch in June. A collector's edition will be sold in Europe and Australia (folks in the US can import from Amazon Germany here), which certainly makes the €39.99 price tag from Amazon Germany more justifiable. Included inside is a physical copy of Flashback 25th Anniversary, a retro cartridge style metal case, an exclusive numbered metal card, a 24-page retro-style instruction booklet, and the digital soundtrack (remastered version).
Flashback on Switch will let players choose between the original 1993 gaming experience and "Modern" mode. The new mode has post-FX graphic filters, completely remastered sound and music, a brand new "Rewind" function that's variable according to the level of difficulty, and tutorials for those who need a boost.
Microids has provided the following overview of the game's story:
2142. After fleeing from a space ship, but stripped of all memory, the young scientist Conrad B. Hart awakens on Titan, a colonised moon of the planet Saturn. His enemies and kidnapers are snapping at his heels, and he has to find a way back to Earth while warding off the dangers that beset him and unravelling a fiendish extra-terrestrial plot that threatens the planet…
Flashback 25th Anniversary will be out for Switch on June 7. We have a brief teaser below.
Source: Microids PR
Leave a Reply