Full Koei Tecmo Channel Lineup at TGS 2020 revealed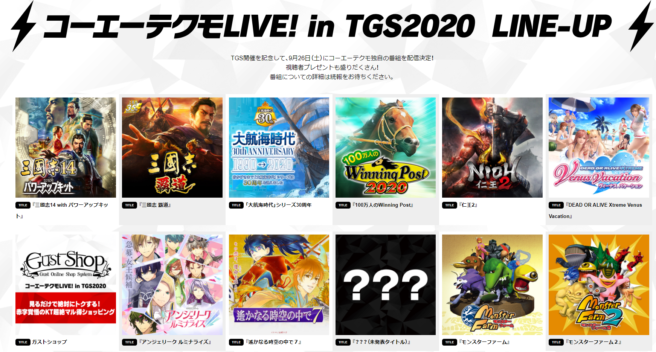 Koei Tecmo's full channel presentation slated for TGS 2020 has been revealed in a graphic on their official website. There are quite a few Switch games on this list, including Angelique Luminarise and Monster Rancher 1 & 2.
The full list is included below, courtesy of Gematsu, and the graphic on their website (with a rough translation) has also been added as well. Koei Tecmo's presentation at TGS 2020 is planned to run from September 23 to 27 with the Koei Tecmo Channel taking place on September 26.
Update: The following information comes from a press release on 4Gamer, translated by 黒凧 BlackKite (@bk2128) on Twitter. The mystery game in Koei Tecmo's lineup appears to be from the Midas brand, who are known for their mobile games.
So, it means it is a good chance that the mystery announcement will be a mobile game.

Midas brand ??? (Unannounced Title)
Angelique Luminarise (Switch)
Dead or Alive Xtreme: Venus Vacation (PC)
Gust Shop: Koei Tecmo Live! in TGS 2020
Harukanaru Toki no Naka De 7 (Switch)
Nioh 2 (PS4)
Monster Rancher (Switch, iOS, Android)
Monster Rancher 2 (Switch, iOS, Android)
One Million Man Winning Post (iOS, Android)
Romance of the Three Kingdoms XIV: Diplomacy and Strategy Expansion Pack Bundle (PS4, Switch, PC)
Romance of the Three Kingdoms Hadou (iOS, Android)
Uncharted Waters Series 30th Anniversary – An introduction to each Uncharted Waters game from its respective producer, as well as a look back on 30 years of the franchise.
Leave a Reply