Funimation app confirmed for Switch, out tomorrow
Posted on December 14, 2020 by Brian(@NE_Brian) in News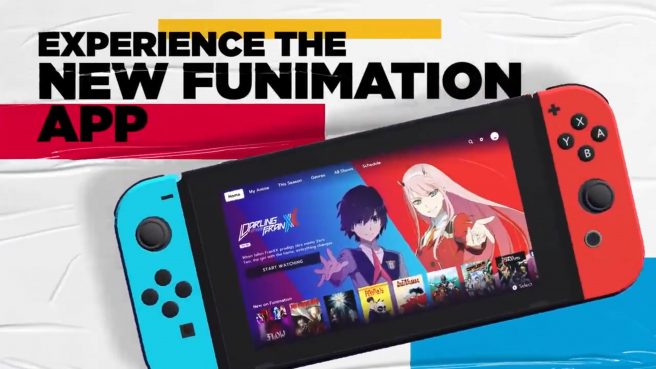 A few days ago, Funimation teased a new app for Switch. The news has now been officially announced with a release happening tomorrow.
The app will be offered in United States and Canada, with the United Kingdom, Ireland, Mexico, and other countries on the way. It will feature new curations, a "My Anime" page, anime launch schedule, and more.
Here's the full announcement:
You heard it right. Funimation is coming to the Nintendo Switch. When? Tomorrow.

We're so excited to announce that the Funimation App will officially arrive on the Nintendo eShop, making it the first and only anime streaming app on the platform!

But that's not all. The Funimation Nintendo Switch App marks the official unveiling of our latest Funimation App design, a refreshing rework of the anime app you know and love. This new updated includes:

A brand-new look and feel
All-new curations and a "My Anime" page
Anime launch schedule
And much, much more!

The Funimation App arrives December 15 on Nintendo Switch in the United States and Canada, with United Kingdom, Ireland, Mexico and additional countries coming soon. With it, Funimation is officially available on all three major gaming platforms! We couldn't be more excited for you to experience the anime you love in a whole new way.

Are you excited for the arrival of Funimation on Nintendo Switch? Share this post and let us know! And stay tuned to Funimation for the latest on all things anime, this season and beyond.
And a brief video:
You'll never put it down again. Anime arrives on the Nintendo Switch for the very first time via the refreshing new look of the Funimation App. Coming tomorrow! @NintendoAmerica

Read on: https://t.co/TetOe3OP18 pic.twitter.com/x5rC5b0Wm1

— Funimation (@FUNimation) December 14, 2020
Leave a Reply