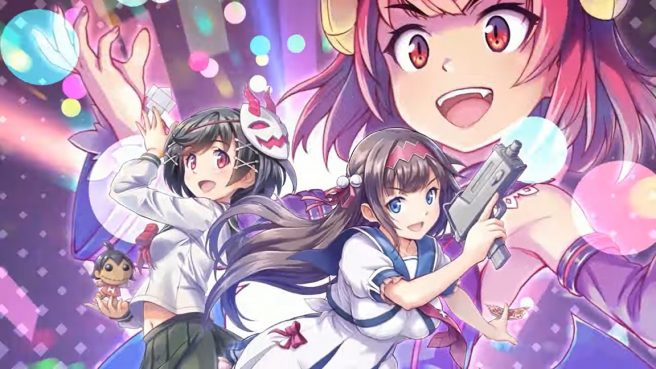 Ahead of its release on Switch next month, developer Inti Creates has shared a new trailer for Gal Gun: Double Peace. Previously they shared an opening movie, a new feature for the Switch version of the game.
Learn more about the game below:
The Gal*Gun Series' #1 Seller is Back!
The universally beloved Gal*Gun Double Peace returns with a definitive edition!

The Gal*Gun series is centered around a protagonist who becomes Super Popular under bewildering circumstances, forcing him to fend off hordes of girls who want to confess their love to him! Using his special Pheromone Shot, he must take aim and fire at the approaching ladies to send them into states of euphoria! Meanwhile, he must confess his love to one of the beautiful heroines in this part-shooting game, part-dating sim series!

In Gal*Gun Double Peace, the 2nd game of the series, that unique gameplay mix is all there—and powered up! Some of the girls you encounter have been possessed by nasty demons, but if you play your cards right, you can send girls into euphoria with a special "double peace" pose! Event scenes with the game's heroines are also more…"intense" than ever!

The Nintendo Switch version of the game comes packed with almost all DLC outfits released on other platforms, as well as a brand new opening cinematic! There may even be a special treat for owners of other Gal*Gun games?! With all this included, it's easy to see why this is the definitive edition!

[Points of Interest]
Includes almost all DLC outfits from other platforms!
Choose from 38 different varieties ranging from cute to completely ridiculous!

Traditional Chinese and Korean language support added!
In addition to English and Japanese, Traditional Chinese and Korean are now supported!

Wait, there's a bonus for owners of other Gal*Gun games?!
Owners of the Nintendo Switch versions of "Gal*Gun 2" and "Gal*Gun Returns" may just find a bonus in "Gal*Gun Double Peace"!

[Cast]
Shinobu Kamizono – Emi Uema
Maya Kamizono – Chinami Hashimoto
Kurona – Aya Fujita
Ekoro – Yui Horie
Patako Amatsuka – Yukari Tamura
Aoi Uno – Nozomi Yamamoto

Nana Inoue, Kana Ueda, Saori Ōnishi, Ari Ozawa, Sayaka Gomi, Arisa Sakuraba, Hekiru Shiina, Aya Suzaki, Yō Taichi, Mikako Takahashi, Mayuka Nomura, Anzu Haruno, Mayu Harumiya, Nana Harumura, Saki Fujita, Minami Muta, Sayuri Yahagi, Kana Yuuki, and others
Here's the new trailer:
Gal Gun: Double Peace will have a simultaneous worldwide release on Switch on March 17.
Leave a Reply