Gal Gun: Double Peace shows off new opening movie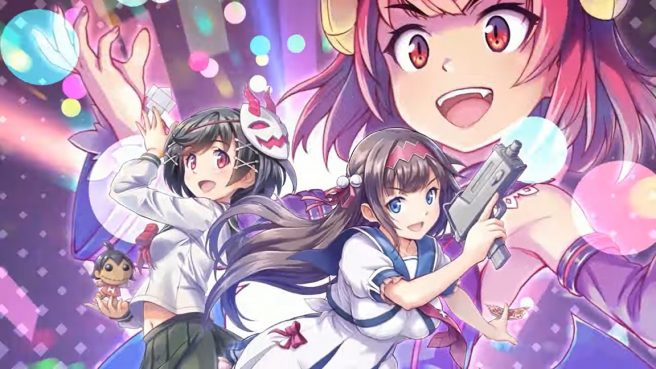 When Gal Gun: Double Peace ends up on Switch, it'll have an opening movie as an added feature. PQube and Inti Creates recently provided fans with a look at the new video created for the game.
Here's some information about the title:
Gal Gun: Double Peace has become a genre-defining game for an entire generation of players. As a celebration of this glorious game, the new Nintendo Switch edition has been created just for you! Step back into the wonderful world of girls throwing themselves at you in Gal Gun: Double Peace for Nintendo Switch!

A rail shooter with a difference – replace bullets with pheromone shots, and enemies with giddy love-obsessed school girls. Every love letter and advancing kiss drains your energy! Repel them while upgrading your power ups and take part in outrageously lewd mini-games to find your true love!

Fend Off Waves Of Admirers!

When Houdai, the portrait of an uninteresting normal student, is shot by a cupid angel named Ekoro, he becomes immensely popular – in the blink of an eye every girl at the academy becomes insanely hot for him.

But being irresistible to the ladies is hardly a dream come true for Houdai. Every love letter, shout of adulation or advancing kiss will drain his energy. He has to stay strong – because if Houdai doesn't find his one true love by the end of the day, he will become cursed and destined to be forever alone.

A Multitude Of Game Modes!

– Story Mode: Can you fend off all the girls advances and successfully confess your feelings to the girl of your dreams?
– Score Attack: Achieve the highest scores on each level!
– Doki Doki Mode: Break out the big guns and turn the girls' happiness up to 11! Aim for the coveted 'Double Peace' result!
– Closet: Change the girls outfits as you desire, with lots of different options available, including 450 different underwear designs (yes, really)
– Collection: Take a look at your achievements, image gallery and information on all the lovely ladies at the Academy!
View the new opening movie for Gal Gun: Double Peace below.
Gal Gun: Double Peace launches for Switch on March 17, 2022.
Leave a Reply