Gal*Gun 2 releasing Spring 2018 in North America and Europe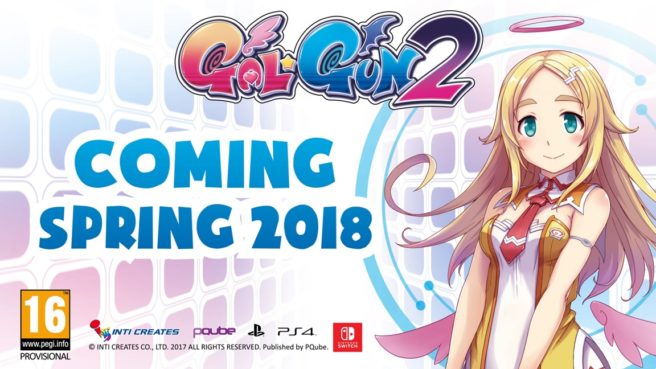 This past week, a Japanese release date was announced for Gal*Gun 2. It's releasing in the territory in March 15.
Not to be outdone, PQube shared an update on the western version today. Gal*Gun 2 is coming to both North America and Europe in Spring 2018. No final date yet, but we'll keep you updated when we have that information.
Here's an official English overview and trailer for Gal*Gun 2:
Gal*Gun 2 is the long-awaited follow-up to Inti Creates' infamous PS4 shooter Gal*Gun: Double Peace, and features more outrageous action than ever before. A new army of more than 70 girls has been overpowered by lust, and you've got 30 days to survive their advances and put things right. Fend off legions of ladies with your Pheromone Shot, and use crazy gadgets to expel demons from their bodies in the most audacious first-person shooter you'll ever play!

Features:

– The craziest shooter yet! – Help swarms of girls exorcise their demon possessions by hitting their pleasure spots with your love gun until they explode in euphoria!
– A gorgeous new cast! – Woo a fresh set of girls in a brand-new Gal*Gun story. With the aid of alluring angel Risu, become romantically entangled with girl-next-door Chiru and childhood sweetheart Nanako.
– Fulfil each girl's desires! – Manage your schedule to receive jobs from the academy's love-struck girls, and satisfy their requests to unlock new missions and story scenes.
– Suck your way to Pantsu Paradise! – Equip the Demon Sweeper, capable of vacuuming up Gal*Gun 2's pesky demon menaces…and sucking the dresses right off the girls' bodies!
– Get up-close and very personal! – Enter Doki Doki Mode, which returns in its biggest, boldest and bounciest guise ever, to rub, caress and poke your way to happiness!
Source: PQube PR
Leave a Reply