GAME OF THE MONTH – Monster Hunter 4 Ultimate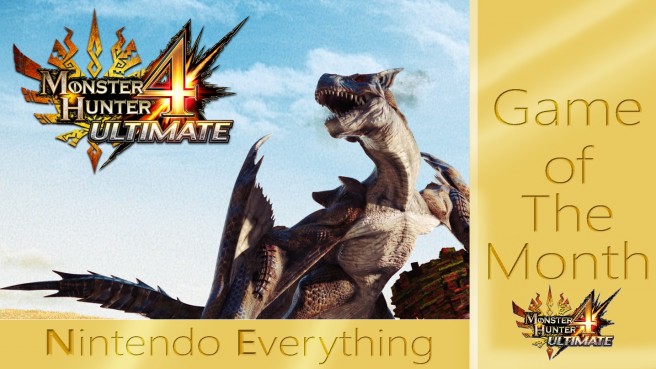 Ah, is it Monday again? Well alright, I can deal with that, but only because our game of the month this March is so wonderful. I bring you: Monster Hunter March! A whole month of features dedicated to talking about Capcom's latest series entry, the series as a whole, and plenty more. You're bound to learn something new about it over the next few weeks as our writers provide varying perspectives and observations about the game.
This month's articles will include an in-depth comparison between Monster Hunter 4 Ultimate on 3DS and Monster Hunter Tri on Wii, a perspective on the game from "a super beginner", a look at how Monster Hunter 4 creates fanaticism despite how intimidating and broken it can look from the outside, and an adorable exposé on your Palico sidekicks from the latest entry on 3DS. Look forward to all of it!
As usual, if you have an article you'd like to write about Monster Hunter this month, please use the contact form to send us an email with your idea and if we like we'll get back to you. How can you not love this game? It's the best.
~Austin
Leave a Reply