1992 Sunsoft game Gimmick! returns on Switch as Gimmick! Special Edition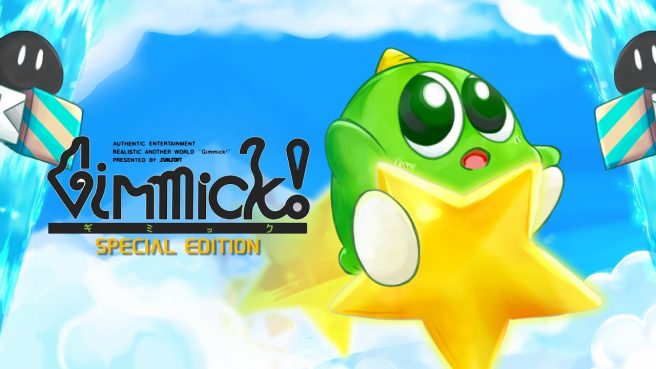 Sunsoft today revealed that it's bringing back Gimmick!, a platformer the company first launched in 1992. A release is planned for this winter on Switch where it will be called Gimmick! Special Edition.
Gimmick! has players maneuvering the tiny green toy Yumetaro through punishingly difficult levels to save its lost owner. New features are planned for the upcoming release, including achievements, time attack mode, save, load and rewind functions, a gallery mode, and more.
Here's some additional information:
Gimmick! was originally released on the NES in 1992 in Japan and Scandinavia. The game follows the story of a small green youkai named Yumetaro who's mistaken as a toy and then given as a birthday present to a young girl. One night, the girl gets kidnapped by her other toys who are jealous of Yumetaro, and brings her to the land of Gimmick! Your quest is to maneuver through a variety of levels and use your special star-shooting power to defeat enemies and save the day.
And below is the official announcement trailer:
Bitwave has secured the rights to publish Gimmick! Special Edition in the west. City Connection is both developing the remaster and publishing it digitally in Japan. A physical edition will also be published in the west by Clear River Games, part of Embracer Freemode.
A playable demo will be on the show floor at Gamescom 2022 next week between August 24 and August 26 in Retro Gaming area F068 at the Dragon Box booth. Those attending the Tokyo Game Show in September can go hands-on as well.
Source: Bitwave PR
Leave a Reply