Gods & Monsters dev build leaks, first early footage emerges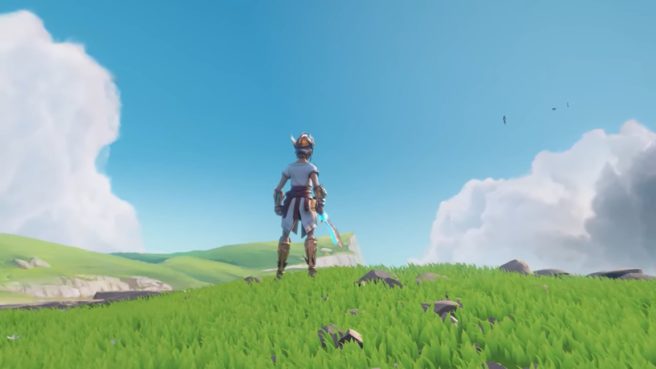 At E3 2019, Ubisoft revealed Gods & Monsters. The open-world action-adventure game, which has drawn a few comparisons to Zelda: Breath of the Wild, is currently experiencing extended development after being delayed well beyond its planned February 2020 launch. It's been a year since the original announcement and we've yet to see much of the project, but a new leak has given us a look at the title in action.
Today's leak came about in a very unexpected way. It appears that an early development build briefly appeared on Google Stadia and a few users were actually able to get their hands on it. Clips show a big world to explore, a stamina meter like Breath of the Wild, combat, and more. However, it should be stressed that since this is a dev build, not all assets/elements are final, and there will be changes for the final release.
#orpheus #GodsandMonsters GUYS!!!!! pic.twitter.com/08TeL5X9vi

— Eddie Gomes – #TWoS #TSI (@Eddie_Player1) June 11, 2020
Gods and Monsters gameplay footage leaked through #GoogleStadia pic.twitter.com/VXG8igc1uV

— Ayofamz_21 (@ayofamz) June 11, 2020
We should note that Ubisoft has been going after clips that have spread to places like YouTube. It's unclear if these brief Twitter videos will be staying up, so we'd advise watching them while you can.
Leave a Reply