Grim Guardians release date set for February 2023, new details and trailer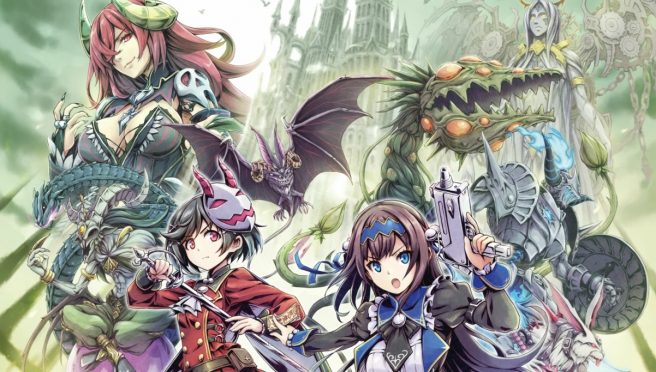 Today, Inti Creates provided a final release date for Grim Guardians: Demon Purge. The game is heading to Switch on February 23, 2023.
Grim Guardians: Demon Purge is an upcoming 2D side-scrolling action game featuring a pair of demon hunting sisters. We had originally heard about the project back in August.
Inti Creates has passed along a ton of new details, which we have below.
About

Grim Guardians is a 2D side-scrolling action game focused on two demon hunting sisters who challenge a demonic castle in order to save their school. Players take control of both characters with entirely different skillsets, proceeding through stages in order to confront the demonic bosses that await deep within. Each boss yields new weapons for them, allowing for more varied exploration in further stages and opening up new routes.

Grim Guardians features 2-player co-op with special actions, extensive difficulty options with the "Style System," unique changes on repeat plays, and most importantly the quality and challenge players have come to expect from Inti Creates titles, this time with a new gothic horror aesthetic.

Story

The Kamizono family has a long lineage of demon hunters. Kamizono Shinobu and Kamizono Maya – the latest to inherit the family profession – return to school one day after finishing a hunt, only to find a shocking scene before them.

Unbeknownst to them, their school had been turned into a demonic castle in their absence. What could have caused this? And what of the other students? With mysteries afoot and danger abound, only demon hunters have the ability to set things right. The Kamizono siblings fight once again.

Feature 1: Swap out on the fly as you traverse through the demonic castle!

Take control of both the tag-team Kamizono siblings. Make the most of long-distance focused Shinobu and close-range brawler Maya Kamizono as you make your way through the castle.

Elder sister Shinobu's long-range attacks allow her to fight while keeping a safe distance, making her the ideal frontline fighter!

Remember to reload her anti-demon submachine gun when out of bullets. She'll be vulnerable while reloading, so time it wisely.

Shinobu Kamizono (VA: Emi Uema)

Elder of the Kamizono sisters, Shinobu is brimming with confidence, but still tends to make careless mistakes. She's a long-range attacker who deals with demons using her anti-demon submachine gun! As a sturdy fighter with more HP than her little sister, Shinobu's sub-weapons procured in each stage give her the means to attack in all directions, as well as the ability to restore HP.

Maya is an expert at close-range combat. Though her damage output is high, her HP is low in return. Well-timed dodging is of the essence when using her. Maya's small frame allows her to crouch under certain platforms, making her the master of exploration.

Maya Kamizono (VA: Chinami Hashimoto)

Younger of the sisters, Maya supports her strong-willed sister from the shadows with her reliable personality. As a technical close-range attacker, she creates various powerful weapons from origami. Use these weapons to deal massive damage! As she unlocks more sub-weapons, she'll earn various special actions, making her a true attack specialist. She has much lower HP in exchange, however, so carefully choose when to switch in from Shinobu as the opportunity to deal massive damage presents itself!

Cover your weaknesses by switching siblings out when the need arises.

When faced with an enemy that can guard against Shinobu's bullets, show them who's boss by switching out to Maya! Identifying which sibling is best for each situation is key. Switching can be done at any time with no limit or demerits, though it requires the both of them to be fit for battle.

Each sibling has a range of unique sub-weapons, giving you a wealth of options to switch your strategy up whenever the time calls for it. Most of Shinobu's sub-weapons can be used flexibly, allowing her to make up for her straightforward attack, Don't hesitate to make use of them so long as you have Weapon Points in stock!

On the other hand, Maya's sub-weapons mainly serve to close the distance between herself and demons, but in turn require technical precision. Some may even have unexpected functions.

Throwing Knives

Throws a knife diagonally upward. Especially effective against aerial foes and those tricky to aim at.

Shikigami

Maya creates shikigami that can damage foes. They can also block certain attacks, but will disappear quicker as a result.

In the event that one of the siblings falls in battle, they can be resuscitated with the Sister Rescue function—provided you can make it back to where they fell.

A fallen sibling can be resuscitated by tapping the button while standing over her body, but demons won't wait for the process to be over.

Game Overs can be avoided as long as you can rescue the other sister. Never give up, even when alone!

No demon hunter gets by without an ultimate demon hunting technique, either. The siblings can sync up to fire off a devastating bullet that purges most demons in an instant, giving them a considerable advantage in their clash against the forces of evil.

Shinobu and Maya can unleash a powerful attack when the Purge Gauge is maxed out! The Purge Gauge increases naturally, but can also be sped up by picking items along the way.

Make use of this powerful attack to wipe demons out!

Feature 2: Defeat bosses to obtain new sub-weapons, opening up a whole new layer of exploration!

Defeating bosses will yield new sub-weapons, providing the siblings with exciting new abilities. These sub-weapons also open up new routes and means of exploration in other stages.

Sub-weapons can be switched at any time. Be aware that they require Weapon Points to use. Not only will new sub-weapons allow you to take down demons you couldn't before, they may also help you reach previously inaccessible areas of the castle!

Meticulous exploration will allow you to uncover the castle's secret passages, which can lead to power-up items for the siblings, not to mention locating the other students who have gone missing.

A keen eye may allow you to find hidden routes and items behind seemingly inconspicuous walls! You can find power-up items with careful exploration, turning the tide in your favor! Do you have what it takes to find and rescue all of the students stranded in the castle?!

Feature 3: Enjoy the story your way with "Pure" or "Refined" voice tracks!

Grim Guardian's story focuses on two main aspects: the mystery behind the school's transformation, and the
whereabouts of the other students. Enjoy the original experience in "Pure" mode with all of the original Japanese voices for story mode, or choose "Refined" for English voice acting focused on the action, tailored for fans of the genre.

Feature 4: Adjust the difficulty to your playing needs with the unique Style system!

A total of 3 different styles – "Casual", "Veteran" and "Legend" – are available for selection, allowing players to adjust the difficulty to their needs. This can be changed at any time after beginning the game, and will have no impact on the story whatsoever.

What's more, co-op with both Shinobu and Maya will be possible should two controllers be available. It's possible to jump-in at any time during the game, so don't hesitate to invite friends along on your journey to conquer this mysterious demonic castle.

Unlimited lives and no knockback when damaged allows for a fun, casual run. Ideal for those looking for the challenge provided by action games of yore. Intense enough that it requires unlocking. Do you have what it takes to clear it?

Attacking together in co-op allows you to deal extra damage! The sky's the limit when it comes to combo options! Maya's riding on Shinobu! Jump on top of your friend's character to reach even higher, unlocking new routes!
A new trailer accompanying the release date news for Grim Guardians: Demon Purge can be found below. The video showcases the wide range of actions available to players to combat the challenging demons they will encounter along their journey through the game.
Grim Guardians: Demon Purge will cost $24.99 on the Switch eShop.
Leave a Reply