GTS is gone in Pokemon Sword and Shield, replaced with Y-Comm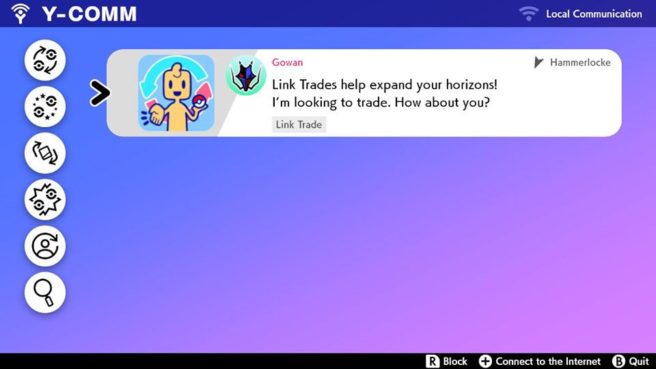 Pokemon fans have come to know the GTS as the series' way of trading. The feature has been removed in Pokemon Sword and Pokemon Shield, but there is something in its place: Y-Comm.
The online servers for Sword and Shield are not actually live just yet. However, we do have some early information about how Y-Comm works thanks to early review copies.
Here's what we know:
– Can access Y-Comm almost immediately
– Bring up any time by pressing the Y button
– The Y-Comm serves as your hub for all kinds of online communications
– Submit a request for a Link Trade, put out a call to battle with another trainer, and swap your personal trading cards with anyone who wants to get to know you
– Said requests run in the background while you continue to quest through the Galar Region
– "Surprise Trade": throw a Pokemon into the digital ether; the game then "handles the rest"
– Surprise Trade is assumedly a replacement for Wonder Trade, but not yet confirmed
Leave a Reply