Gunbrick: Reloaded getting a physical release on Switch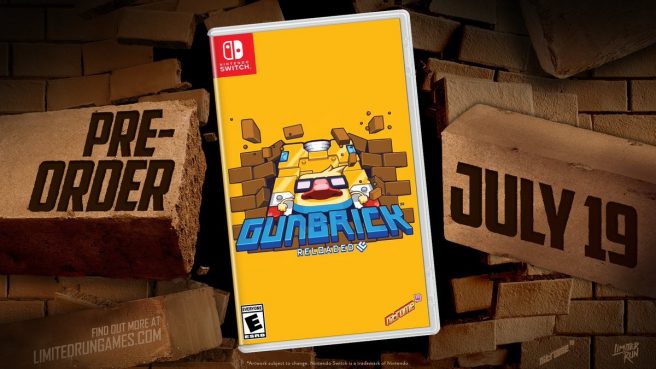 A physical version of Gunbrick: Reloaded is currently planned, Limited Run Games has announced. The company will be offering it as part of its distribution line.
Gunbrick: Reloaded originally made its debut in April 2020. Nitrome has thus far only made the puzzle-platformer available digitally, so collectors will soon be able to add it to their physical collections.
Here's some information about the game:
Encounter wasteland mutants, crazed nerds, law enforcement and all manner of cube based adversaries in this action packed puzzle platformer.

Roll your way through a jam packed world set over five unique locations.
Put that grey matter to the test with some seriously crafty puzzles.
Use your shield to defend and your gun to attack! (Handy against knife wielding punks and crazed mutants)
Face your gun down to perform a ROCKET JUMP!
Epic Boss fights, including a thrilling chainsaw death match.
Unlock hidden levels opening a whole new perspective! can you find them all?
Music by Eirik Suhrke (Creator of Ridiculous Fishing & Super Crate box)
You'll be able to pre-order the physical version of Gunbrick: Reloaded on Switch starting July 19 at 12 PM ET. Limited Run Games will be accepting reservations here until August 21.
Leave a Reply