Hand of Fate 2 announced for Switch, out next week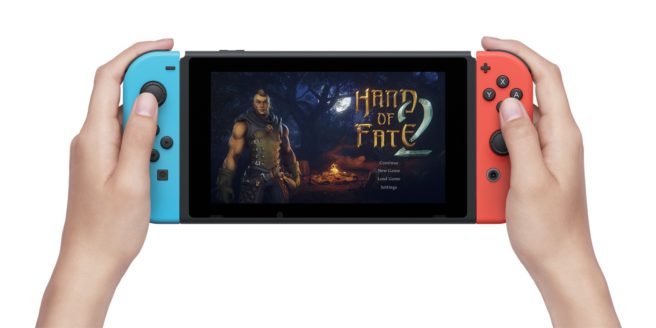 Several months ago, Defiant Development expressed interest in bringing Hand of Fate 2 to Switch. Today, it was made official. Hand of Fate 2 is indeed releasing on Switch, and it's just a week away.
Hand of Fate 2 is an acclaimed action RPG. The Switch version will include all DLC add-ons that have been made available on PC from its November launch through April, with more content coming later.
Below is some additional information for Hand of Fate 2 plus a trailer:
Collect cards and build a customizable deck of equipment, enemies, encounters, loot, and surprises that will be shuffled in with the Dealer's own challenges. Once combined, cards are laid out into a dungeon floor for players to navigate. Each card presents obstacles to overcome, including action-packed hack-and-slash combat, precarious exploration, high-risk high-reward minigames as well as Dungeons and Dragons-style storytelling and decision making.

The original Hand of Fate has been downloaded more than 2.5 million times since its debut in 2015. The award-winning sequel pits a brand-new hero against the series' enigmatic antagonist, the Dealer, as he seeks revenge following his dramatic defeat at the climax of the first game.

The sequel sports a variety of upgrades over the original title, such as an overworld map where each location presents new challenges, new tabletop minigames, companions (including the Dealer himself) with unique side-quests that provide assistance both in battle and perks outside, more robust combat, a deeper story, and an ever-growing supply of new content.
Hand of Fate 2 launches July 17 for Switch.
Source: Defiant Development PR
Leave a Reply