Hello Neighbor 2 seemingly coming to Switch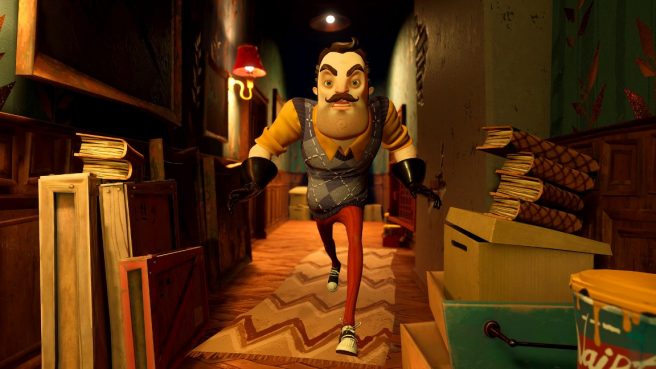 Although there hasn't been an official announcement, it's looking like we'll be seeing Hello Neighbor 2 on Switch.
A couple of retailer listings popped up this week suggesting that the title will be appearing on Nintendo's console. Amazon and GameFly both have pages for Switch now.
Of course, as already mentioned, there's been nothing about this from publisher tinyBuild thus far. The company has only confirmed plans for Xbox Series, Xbox One, PS5, PS4, and PC. But it's worth noting that Switch already has a few of the series games – specifically the original Hello Neighbor, Hello Neighbor: Hide and Seek, and Secret Neighbor.
Here's some information about the game:
Hello Neighbor 2 is a stealth horror game about uncovering your creepy neighbor's secrets. You are a journalist looking to solve the Neighbor's case, since no one else dares to. Play against a complex opponent controlled by an advanced AI that learns from you and all the other players! As time passes and the Neighbor adapts to the players' patterns, his own behavior will change and surprise you. Will you be the one to outsmart the Neighbor and find out what he's hiding?

The game feels like an investigative journalist simulator – sneak around and find out your neighbors' secrets. Why does this moustached gentleman go down to the amusement park every night?
You have an entire town as your playground, with plenty of houses and AI-driven residents to interact with.
Can you outsmart the AIs? Every character in Hello Neighbor 2 is powered by a neural network AI and learns from the players, doing everything in their power to protect their gated community and its secrets.
Uncover the big mystery hidden in Raven Brooks!
And here's a previous trailer for the game:
Hello Neighbor 2 isn't planned until December, so there's plenty of time for a Switch version to be officially confirmed. In the meantime, you can pre-order the physical release on Amazon here (there's also a Deluxe Edition here).
---
Nintendo Everything is a participant in the Amazon affiliate program. The website may receive a partial commission through orders placed with this retailer.
Leave a Reply