Hot Wheels Unleashed 2: Turbocharged launch trailer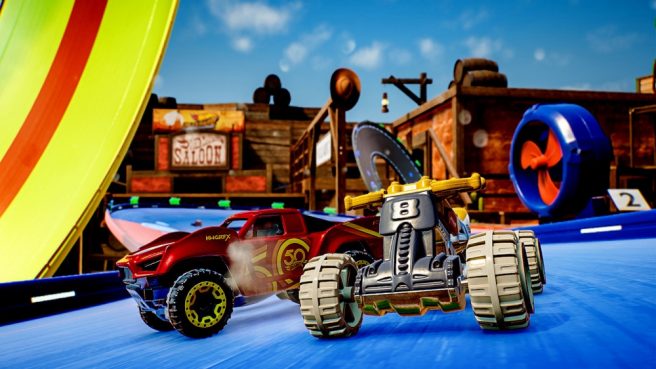 Milestone issued a launch trailer for Hot Wheels Unleashed 2: Turbocharged, which came to Switch this week. The racer is a follow-up to the original title that dropped a couple of years ago.
You can learn more about it in the following overview:
The Hot Wheels brand has always been synonymous with speed, thrill, and unparalleled vehicular designs. Keeping up with this legacy, Hot Wheels Unleashed 2 – Turbocharged offers a vast selection of over 130 vehicles, broadening its universe with the inclusion of ATVs, Motorcycles, and a host of new classes. Whether it's the sheer speed of the Rocket class or the agility of the Swift, the perfect blend of handling and power of the Balanced category, the precision and finesse of the Drift group, the majesty of the Heavy Duty, or the adventurous Off-Roads, there's a vehicle to suit every racer's preference.

Importantly, each category will perform differently based on its specific characteristics and the different racing surfaces. With five brand-new environments to choose from, where you race is just as important as how you race. Hit the sticks in a nostalgic Arcade room, explore a revamped Backyard racing arena, avoid traps Mini Golf Course set in the Wild West, race around history in the Dinosaur Museum, and fuel up at a Gas Station complete with a diner.

Victory in Hot Wheels Unleashed 2: Turbocharged is about more than just speed. The game introduces an innovative Skill System, turning racing into a tactical battleground. Performance enhancements come from investing your Skills Points earned while racing in a Skill Tree composed of three branches, which upgrade vehicles in different ways; players can choose to improve boost and related features, handling, or the ability to navigate obstacles.

New gameplay mechanics also add increased depth to the racing excitement. Single and Double Jumps offer aerial grace, giving you a way to avoid other racers or discover new shortcuts, while the Lateral Dash allows drivers to quickly move sideways, ideal for colliding with opponents or avoiding falling off the track. These new possibilities combine with the existing Boost and Drift moves to provide players with multiple approaches to every scenario they encounter.

Hot Wheels Unleashed 2: Turbocharged also introduces new dynamic game modes like Elimination, where staying too long in the last position will decree your game over, or Drift Master, a fusion of control and style perfect for drift lovers. These can be played in split-screen, just like Waypoint, the free-roaming mode where players will have to explore environments and find the shortest path through checkpoints. Moreover, two online-specific modes will fuel virtual battles, with cross-play* also enabling races across different consoles. In Grab the Gears, players will try to collect as many gears as possible within a designated area, while the Clash Derby mode will feature massive duels amongst Monster Trucks.

Another pillar of Hot Wheels Unleashed 2: Turbocharged is the revamped Career mode. Here, players will team up with Robert and Darla, supported by their robotic sidekick XR046, to save the city from ominous creatures accidentally released by the sloppy Professor Tanabe. Players will find themselves captivated by an engaging plot thanks to animated cutscenes that will give them a glimpse into the history and personalities of each character as they're called to spectacular battles against five bosses in a race to restore peace.

Several upgraded design editors await the imaginative touch of the endlessly creative Hot Wheels Unleashed community. The Livery Editor features a new Sticker Editor to allow users to design, store, and share unique patterns and forms, whereas the Track Editor provides special modules and features to boost the variety of player-generated tracks. All user-generated content is shareable cross-platform from day one so that the whole community can appreciate every creation.
Get a look at the Hot Wheels Unleashed 2: Turbocharged launch trailer below.
Launch Trailer
Hot Wheels Unleashed 2: Turbocharged is available physically and digitally on Switch.
Leave a Reply