[Interview] Frontier on bringing RollerCoaster Tycoon 3 and Jurassic World Evolution to Switch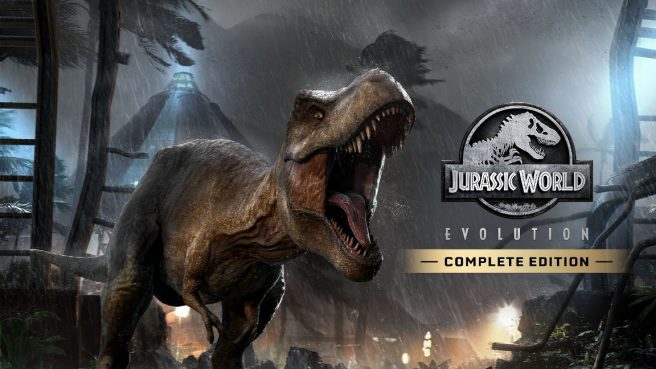 Frontier has supported Switch in a big way to close out 2020. Aside from bringing back a classic with RollerCoaster Tycoon 3: Complete Edition, there's also Jurassic World Evolution: Complete Edition. The former game is already available with the latter one to follow in November.
Recently, Frontier answered a number of questions about both of its new Switch releases. Director Rich Newbold spoke with us about Jurassic World Evolution: Complete Editions while director of publishing Zac Antonaci shared more about RollerCoaster Tycoon 3: Complete Edition.
Here's our full discussion:
When did talks begin as far as revisiting RollerCoaster Tycoon 3 and bringing it to Switch?

RollerCoaster Tycoon 3 holds a special place in everyone's hearts, here at Frontier. The classic game has endured the test of time and it's still regarded as a title that defined a genre. We are immensely proud of that achievement.

After the previous publishing agreement expired, we immediately started planning RollerCoaster Tycoon 3's triumphant return. This new Complete Edition includes all content from both Soaked! and Wild! expansion packs in a single package, and we think it is a great way to bring one of the world's most iconic games to a new and exciting platform via Nintendo Switch.

Were there any particular reasons why this felt like a good time to bring RollerCoaster Tycoon 3 back?

RollerCoaster Tycoon 3 has sold over 10 million copies to date. Bringing this timeless classic to Nintendo Switch will give many veteran players the chance to experience the enjoyment and passion they felt for the game all over again. We are also hoping to welcome a whole new generation of players that will be letting their imagination run wild with RollerCoaster Tycoon 3: Complete Edition for the first time, and we are definitely looking forward to seeing the amazing theme parks and rollercoaster rides they will come up with.

Are there any new additions for the Switch release? Were any changes made, or is it more of a straightforward HD version?

While the content is practically identical to that of the PC version, the game has been reimagined for the Nintendo Switch, including an all-new interface complemented with intuitive new controls designed to help you build the ultimate theme park anytime, anywhere.

What sort of work has gone into bringing RollerCoaster Tycoon 3 into the HD era?

The development team has pulled out all the stops to make sure RollerCoaster Tycoon 3 plays well both on the Nintendo Switch and in modern PCs. Enjoying RollerCoaster Tycoon 3 in high definition for the first time may be the most obvious new feature, but we were not content with offering just that. We took special care into ensure the Complete Edition is compatible with the newest PC hardware, and as commented before, the Nintendo Switch version features a brand-new user interface that makes the most of the console's unique capabilities.

Jurassic World Evolution originally debuted a couple of years ago, and now it's coming to Nintendo's console. How did the Switch port come about?

We completed the 'Return to Jurassic Park' content and identified the next challenge for the team and we felt the technical challenge of creating the company's first ever game for the Nintendo Switch would be an amazing one. We felt bringing the game, with all of its updates and all of the content to a whole new community would be a great next step. There's so many big fans of the Nintendo Switch on the team and in the company so it was really exciting for all of us involved.

You have slightly less to work with when making Switch games compared to other platforms, so were any changes implemented to make the game run well on the console?

We had to optimize many areas of the game especially on our assets. We re-optimized all our buildings and dinosaurs, ensuring they were better suited for the Nintendo Switch but also ensuring their visual quality was as high as possible. We've also had to add a limit for the number of species of dinosaurs you have in your park. It's set to 100, so still pretty high but put in place to ensure the experience is as high as possible for players.

Did the team encounter any sort of technical challenges in porting Jurassic World Evolution to Switch?

We wanted to ensure that our players would have the same great experience regardless of what platform they choose to play on. In order to do this we had to look at and optimize every aspect of the game from audio, art, dinosaurs, code in order to ensure the game runs and looks just as good on a mobile platform as it does on the other platforms. This involved us re-assessing a whole swathe of systems to work with the hardware differences on the Switch compared to our existing platforms.

What can players expect from Jurassic World Evolution's performance on Switch in terms of frame rate and resolution?

We're still a little way from launch, so have nothing to share regarding frame rate and resolution right now.

Will the game use Switch's features in any way?

While there aren't any Switch exclusive features, Jurassic World Evolution: Complete Edition is packed with every piece of DLC released since launch giving players at wealth of content at their fingertips, wherever they choose to play.

A number of our readers are big fans of collecting games. Could physical version of Jurassic World Evolution happen at any point in the future?

We have nothing to announce about a physical version at this time.

Is there anything else you'd like to say to Switch owners looking forward to Frontier's upcoming releases?

We're so excited to bring these two Frontier title to Nintendo Switch and look forward to hearing from all of the new players joining our amazing Jurassic World Evolution and RollerCoaster Tycoon 3 communities!
Leave a Reply