Iwata nabs an 80.64% approval rating, up from last year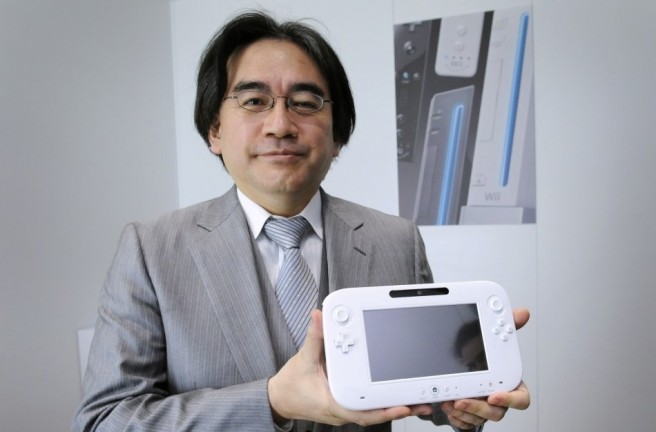 We knew that Satoru Iwata had been re-elected as Nintendo's president during the company's Annual Shareholders Meeting last week. Now we know what the CEO's approval rating was.
This year, Satoru Iwata managed to see an 80.64 percent approval rating. That's up from last year's percentage of 77.26 percent.
Here's a comprehensive breakdown of approval ratings:
Historical Iwata Approval Ratings:
Iwata, 2010:
Approve: 952,201
Oppose: 19,072
Approval Rating: 96.74%
Iwata, 2011:
Approve: 932,379
Oppose: 48,339
Approval Rating: 92.89%
Iwata, 2012:
Approve: 913,453
Oppose: 83,740
Approval Rating: 90.60%
Iwata, 2013:
Approve: 772,384
Oppose: 218,960
Approval Rating: 77.26%
Iwata, 2014:
Approve: 777,999
Oppose: 169,240
Approval Rating: 80.64%
Last year:
?? ? 772,384 218,960 2,164 77.26 ??
Satoru Iwata
Approve: 772,384
Oppose: 218,960
Approval Rating: 77.26%
This year:
?? ? 777,999 169,240 3,549 80.64 ??
Satoru Iwata
Approve: 777,999
Oppose: 169,240
Approval Rating: 80.64%
Last year:
?? ?? 927,081 64,265 2,164 92.73 ??
Genyo Takeda
Approve: 927,081
Oppose: 64,265
Approval Rating: 92.73%
This year:
?? ?? 837,426 107,823 5,540 86.80 ??
Genyo Takeda
Approve: 837,426
Oppose: 107,823
Approval Rating: 86.80%
Last year:
?? ? 927,149 64,197 2,164 92.74 ??
Shigeru Miyamoto
Approve: 927,149
Oppose: 64,197
Approval Rating: 92.74%
This year:
?? ? 837,460 107,789 5,540 86.81 ??
Shigeru Miyamoto
Approve: 837,460
Oppose: 107,789
Approval Rating: 86.81%
Last year:
?? ?? 927,930 63,418 2,164 92.82 ??
Tatsumi Kimishima
Approve: 927,930
Oppose: 63,418
Approval Rating: 92.82%
This year:
?? ?? 859,709 85,541 5,540 89.11 ??
Tatsumi Kimishima
Approve: 859,709
Oppose: 85,541
Approval Rating: 89.11%
Last year:
?? ? 927,931 63,417 2,164 92.82 ??
Kaoru Takemura
Approve: 927,931
Oppose: 63,417
Approval Rating: 92.82%
This year:
DIRECTOR RETIRED
Last year:
?? ?? 936,553 54,795 2,164 93.68 ??
Shigeyuki Takahashi
Approve: 936,553
Oppose: 54,795
Approval Rating: 93.68%
This year:
?? ?? 900,275 44,975 5,540 93.32 ??
Shigeyuki Takahashi
Approve: 900,275
Oppose: 44,975
Approval Rating: 93.32%
Last year:
?? ? 936,628 54,720 2,164 93.69 ??
Satoshi Yamato
Approve: 936,628
Oppose: 54,720
Approval Rating: 93.69%
This year:
?? ? 900,394 44,856 5,540 93.33 ??
Satoshi Yamato
Approve: 900,394
Oppose: 44,856
Approval Rating: 93.33%
Last year:
?? ? 936,635 54,713 2,164 93.69 ??
Susumu Tanaka
Approve: 936,635
Oppose: 54,713
Approval Rating: 93.69%
This year:
?? ? 900,404 44,846 5,540 93.33 ??
Susumu Tanaka
Approve: 900,404
Oppose: 44,846
Approval Rating: 93.33%
Last year:
?? ?? 936,609 54,739 2,164 93.69 ??
Shinya Takahashi
Approve: 936,609
Oppose: 54,739
Approval Rating: 93.69%
This year:
?? ?? 900,401 44,849 5,540 93.33 ??
Shinya Takahashi
Approve: 900,401
Oppose: 44,849
Approval Rating: 93.33%
Last year:
?? ?? 936,576 54,772 2,164 93.68 ??
Hirokazu Shinshi
Approve: 936,576
Oppose: 54,772
Approval Rating: 93.68%
This year:
?? ?? 900,418 44,832 5,540 93.33 ??
Hirokazu Shinshi
Approve: 900,418
Oppose: 44,832
Approval Rating: 93.33%
Last year:
NEW DIRECTOR
This year:
?? ?? 907,111 40,130 3,549 94.03 ??
Naoki Mizutani
Approve: 907,111
Oppose: 40,130
Approval Rating: 94.03%
Leave a Reply