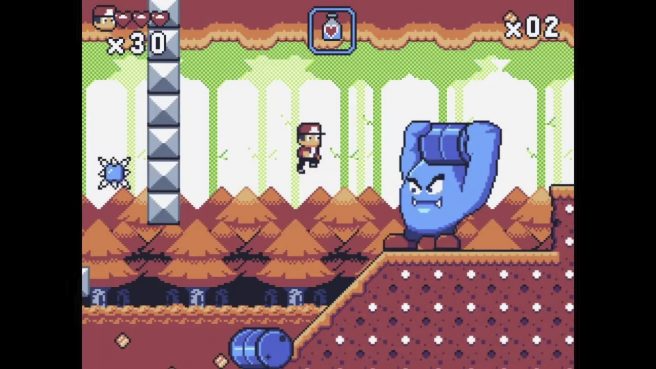 Jack 'n' Hat made it to Switch last week, and we now have gameplay. Fans can check out extensive footage of the 2D platformer.
For more on Jack 'n' Hat, read the following overview:
Jack'n' Hat has stunning 16-bit pixel art, beautiful music and precise controls which is likely to remind you of the greatest old school platformers.

Prepare for an exhilarating platformer adventure across the world of Ririland! The evil Dr. Voo Doom has abducted Princess Riri, instigating a civil war that has plunged the Kingdom into chaos!

Is there anyone strong enough to save the distraught royal? Jack, the famous "jack-of-all-trades" repairman is ready to bring peace to the land.

Armed with the latest invention of the brilliant Dr. Expo Zicion, a hat that can be thrown like a boomerang, Jack has to travel the planet searching for Energy Crystals, the only power source that will allow him to travel to the moon and put an end to Dr. Voo Doom's plans for world domination!

Help Jack jump and slide his way through deserts, jungles, volcanoes and battle devious enemies and dangerous bosses!

Can you save Ririland?

Jack'n' Hat's features include:
– 20 huge levels with secret ones to unlock!
– Collect Crystals, Gems and Stars. Can you get them all?
– Intense Boss Battles
– Unlockable abilities
– Catchy chiptune soundtrack
– Retro & Modern modes
– 7-8 hours gameplay
We have the gameplay for Jack 'n' Hat on Switch below.
Jack 'n' Hat is being offered now on the Switch eShop. English, Japanese French, German, Italian, Spanish, and Chinese languages are included.
Leave a Reply