Jet Kave Adventure getting a physical release on Switch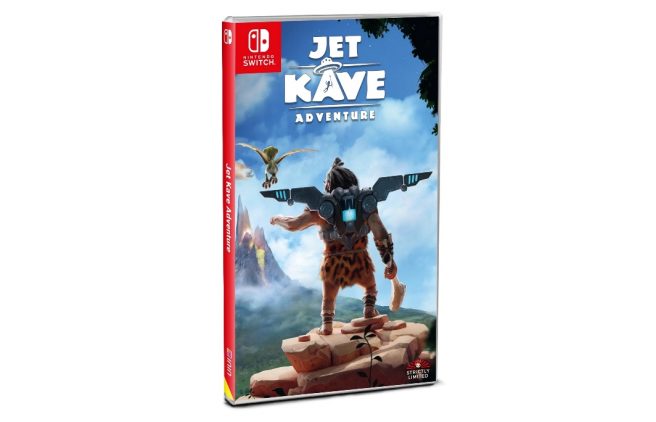 Jet Kave Adventure will have a physical release on Switch, Strictly Limited Games announced today in partnership with 7Levels.
3,000 copies will be produced. Along with a soundtrack download code, each unit contains a manual with over 30 pages of art work and concepts.
Here's some information about the game:
Take on the role of Kave, a caveman, in this action platformer featuring an exotic stone age setting. Disclaimer: 7Levels and SLG make no claims of historical accuracy. While it is proven dinosaurs and cavemen did not exist at the same time, the same can't be said for aliens.

Kave used to be chief of his tribe, but was cast out for failing to provide food. But when aliens threaten to erupt a volcano to jumpstart their crashed spaceship, destroying everything in its vicinity, he doesn't hesitate to try putting a stop to them. Sounds crazy?

To help him on his quest, he can make use of the best of two worlds, primitive stone age tools and spaced-out sci-fi gadgets. What would a caveman be without his trusty club? Exactly. Bash away at dinosaurs, giant fireflies and other critters to your heart's content. Can't or don't want to get close up and personal? No worries, Kave also carries the most advanced ranged weapon technology of his time: the rock. Show those pesky fire breathing lizards who's boss. Finally, there's the jetpack. This is what you are here for after all, isn't it? Kave picked it up from the crashed alien spaceship, and it allows him unprecedented mobility for a caveman. Hover, fly and boost your way through varied, 2.5D environments ranging from jungles to caves, sandbanks and volcanos. All these tools, as well as your health, can be upgraded with shells at the shaman's shop. This gives you an edge over your enemies.

Key Features

Crazy mix of distant past meets distant future. You heard of Cowboys vs. Aliens? Well, we have Cavemen vs. Aliens.
Fast and fluid 2.5D platform gameplay
Upgrade Kaves' abilities between stages: Hover longer, take more hits, get a bigger club. It's up to you.
Colorful and vibrant Stone Age graphics
Hidden collectibles and time trials with online leaderboards for additional replay value
In-game trophies! Can you get them all?
A caveman with a jetpack!
Pre-orders for the physical version of Jet Kave Adventure on Switch start February 12, 2023 via Strictly Limited Games here. Copies should ship this fall.
Leave a Reply