Jump Force adds DLC character Giorno Giovanna this spring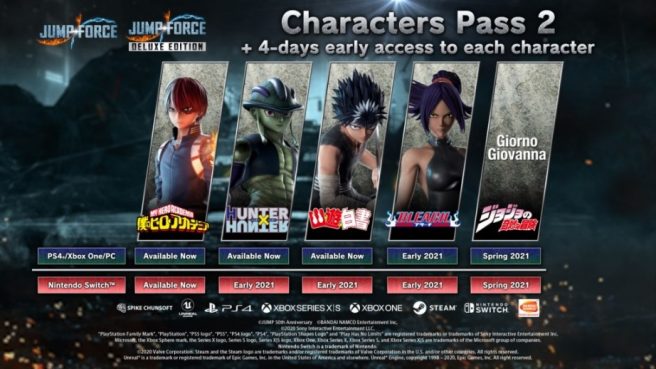 Bandai Namco has provided a status update on Jump Fore's newest DLC roster addition Giorno Giovanna. The character will launch this spring, the company announced today.
Bandai Namco passed along the following information about Giorno:
A Golden Wind is set to howl across the Jump Force battlefield when JoJo's Bizarre Adventure's Giorno Giovanna, the progeny of DIO by way of Jonathan Joestar's body, joins the game's playable roster this spring. Opponents who come face-to-face with Giorno's seemingly invincible Gold Experience Requiem Stand are forever reminded that their attacks are simply useless.

Giorno is the fifth and final member of Jump Force "Characters Pass 2," which also features the currently available Shoto Todoroki, Meruem, and Hiei, and the upcoming Yoruichi. Players who purchase Character Pass 2 for $17.99 will immediately obtain Todoroki, Meruem, and Hiei, as well as gain early access to Yoruichi and Giorno upon release. Each character is also available separately for $3.99.
Jump Force Deluxe Edition is out now on Switch.
Source: Bandai Namco PR
Leave a Reply