Kanye West once tried to pitch Shigeru Miyamoto on his game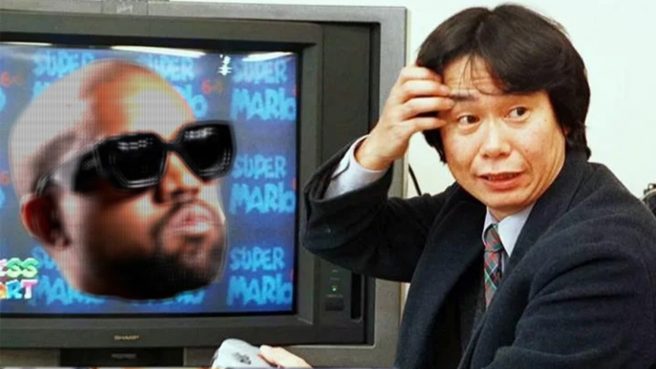 Twitch lead community producer Zachary Ryan, who was previously an editor at IGN, has revealed that Kanye West once delivered a pitch to Shigeru Miyamoto directly about making a game with Nintendo.
Ryan had met with Miyamoto in early 2016 for an interview about Star Fox Zero. At the end of the event, Ryan was speaking with a Nintendo PR representative, and there was talk about West's new album, The Life of Pablo. After hearing Kanye's name, Miyamoto then divulged how they met at the previous E3.
West ended up appearing at Nintendo's booth unannounced that year, and requested an audience with Miyamoto. He got his wish, and West then showed him the prototype for a video game. This title would have you playing as West's late mother flying to heaven with a soundtrack created by West. As Ryan stated, "he was shaking his head as he described it, not like he thought it was a bad game". It was rather "in the way that he just sorta couldn't believe that Kanye West was pitching him a video game."
Miyamoto would go on to say that "it was very interesting." After taking a long pause, he also said "it was very moving." Finally, Miyamoto apparently laughed very hard and said "Kanye West wanted to make a game with Nintendo" and lastly, in English, "Wow!" Oh, and he gave two thumbs up.
The game Miyamoto was describing seems to be "Only One", which West ended up announcing in 2016. It still has not been released.
This isn't the first time we've heard about Kanye West looking to partner with Nintendo. Previously, former Nintendo of America president Reggie Fils-Aime shared a story in which he West asked about the two sides working together.
Thanks to Greatsong1 for the tip.
Leave a Reply