Killer Queen Black launches October 11, new trailer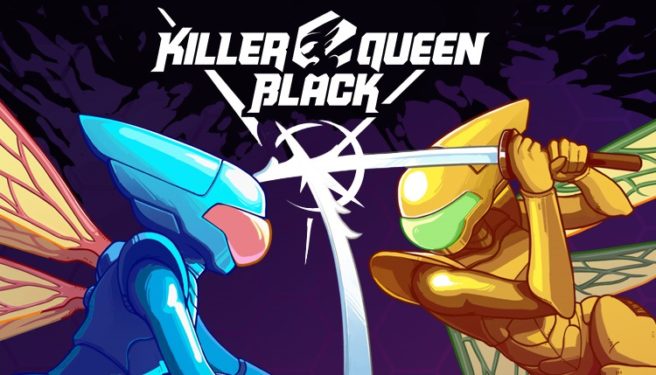 The arcade action platformer Killer Queen Black, which was announced for Switch at E3 2018, has finally been given a release date. It will launch physically and digitally on October 11, Liquid Bit and BumbleBear Games have announced.
Here's an overview of Killer Queen Black, along with a new trailer:
Squad up and form a team of four – one Queen, three workers – and battle for the hive. Triumph in three different ways: Economic, Military, and Snail. Score an Economic victory by collecting berries strewn about the level and returning them to the base. Earn Military victories by defeating the opposing Queen three times. Secure a Snail victory right under the other team's nose by slowly riding a snail back home. The first to three wins emerges victorious.

Whoa whoa whoa. Queens? Workers? SNAILS? If Killer Queen's jargon is overwhelming, start off with the Tutorial mode, which slowly introduces mechanics and adds AI opponents as it ramps up. Then take those new skills into either Quickplay or Ranked. Quickplay replicates the feeling of walking up to an arcade cabinet: immediate access to a game, no ranks, and AI fills in the gaps if there isn't a full match available.

Ranked Play has skill-based matchmaking and requires 8 human players. After 10 placement matches, players are placed into a league (Bronze, Silver, Gold, Platinum, Obsidian) most befitting of their talents. Each league comes with a new icon so other players can measure one another's skills at a glance. Ascend the ranks and reach the tops of various Leaderboards including Friends, Leagues, and the top 100 in the world.

Killer Queen Black relies on communication and coordination, so Liquid Bit included tools to help teams thrive. Cross-platform voice chat, powered by Vivox, lets teams on PC and Nintendo Switch talk to one another directly. For non-verbal communication, emotes and a dedicated objective callout system ensure teams are on the same page. Connecting two Nintendo Switch consoles via local wireless mode enables 4v4 games for a full local party experience.
Digital pre-orders for Killer Queen Black open today on the eShop. It will cost $19.99, though there's a 15 percent pre-load discount. The physical version costs $29.99 and includes the game, controller skins, and exclusive game art on the box.
Source: Liquid Bit PR
Leave a Reply