Kingdom Majestic out on July 14 in North America, July 9 in Europe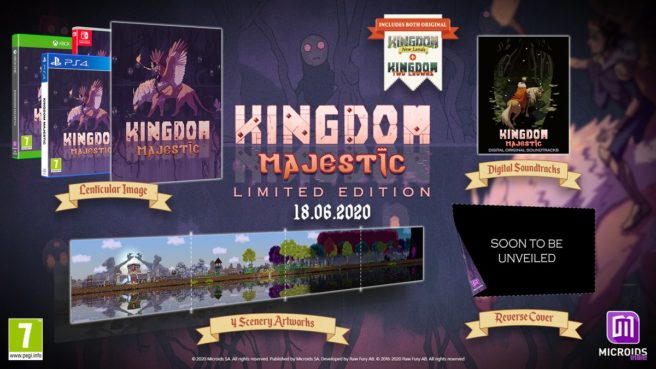 Microids has provided a specific release date for Kingdom Majestic. The physical bundle, which includes Kingdom New Lands and Kingdom Two Crowns, releases at retail on July 14 in North America and July 9 in Europe.
Those in Europe will be able to pick up a limited edition. Copies include both games, a 3D lenticular, sleeve, four scenery artworks representing a map when combined, original soundtracks, and a double-sided cover. All copies of the standard edition – including North America – come with the reversible cover.
Here's some information about Kingdom:
You are a monarch and your goal is to grow your burgeoning kingdom while protecting your loyal subjects and crown from the Greed! During the day, you'll travel the land atop your mount to recruit troops, order the construction of new buildings, and fetch your precious gold. At night, hordes of Greedlings will attack from both sides of your kingdom to break down your walls and steal your crown.

Kingdom's gameplay revolves around the management of funds, which is vital for recruiting new subjects, assigning them tasks, building or enhancing structures, and unlocking new mounts, NPCs, and lands to explore. Since 2015, over six million players have built their kingdoms in the series.

The Kingdom franchise is a partnership between Raw Fury, Fury Studios, Coatsink and director/designer Gordon Van Dyke (Stumpy Squid). Kingdom Majestic is published by Microids SA.
Source: Microids PR
Leave a Reply