Kingdoms of Amalur: Re-Reckoning Fatesworn expansion delayed to 2023 on Switch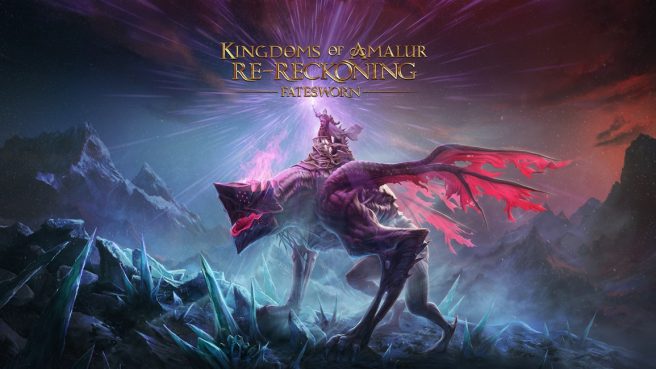 The Fatesworn expansion for Kingdoms of Amalur: Re-Reckoning came out around this time on most platforms last year, but when we last heard about it for Switch, the new content was planned for 2022. However, there hasn't been much in the way of news over the past few months. With only a few days left in the year, perhaps it's unsurprising to state that the Kingdoms of Amalur: Re-Reckoning Fatesworn expansion has been delayed to 2023 on Switch.
That news comes from the official Twitter account. While it's a bit of a disappointment, THQ Nordic did clarify that the expansion is "almsot done" for Nintendo's console. We don't have any sort of date, but it's apparently coming soon – so an early 2023 launch isn't out of the question.
Here's some information about the Kingdoms of Amalur: Re-Reckoning Fatesworn DLC expansion for those that missed our original coverage:
After decades of conflict, the disastrous Crystal War has finally ended, and the Tuatha warlord Gadflow has been defeated. As the people of Amalur's ravaged Faelands turn their gaze toward a welcome peace and the work of rebuilding, a new threat rises in the west… Beyond icy peaks and impassable cliffs lies the mountainous region of Mithros, an ancient Almain refuge offering new hope to settlers, refugees, and war veterans displaced by the fires of war. It is here that Telogrus, God of Chaos, has emerged to claim his mortal kingdom and tempt the people with promises of freedom from the shackles of Fate. Only one has the power to challenge the will of this risen god: you, the Fateless One.

Journey to a brand new Amalur environment filled with snowy tundras, deep caverns, and treacherous enemies, and visit mountain villages and the ancient lakeside city of Crownhold. Master the unstable power of Chaos with a unique new non-combat Skill and class of weapons and armor. As the fabled Fatesworn, you will wage a last battle against the Niskaru and their Chaos brethren, as Chaos dungeons turn every region in Kingdoms of Amalur: Reckoning into a potential battlefield.

Key Features

Set in a completely new environment called Mithros featuring mountains and snowy landscapes
Face the God of Chaos in 6h+ Main quest with a compelling story line that concludes the game, featuring new and returning characters
Chaos as a completely new gameplay mechanic connected to weapons, enemies, rifts and portals
Level cap raised to 50
The journey takes you to 2 entirely new dungeon sets
Enter Chaos Portals to explore 25 brand new Chaos Realm dungeons strewn across the Fatesworn world and the old world
New enemies and variations of existing enemies
New crafting items for weapons, gems, potions with new reagents and components
6 new unique armor sets with very special and powerful traits
21 new weapons and shields (9 chaos weapons, 15 unique)
New accessories like rings and amulets with powerful traits
New music by award winning composer Grant Kirkhope
New mysterious trader selling equipment lottery boxes, offering a new way to complete rare item sets
New twist of fate cards
Tons of new sidequests task quests and faction quest to fulfill
New villages and cities, with new houses and interiors and much more
We'll let you know when we have a final release date for the Kingdoms of Amalur: Re-Reckoning Fatesworn expansion on Switch.
Leave a Reply