Kirby: Planet Robobot gets first review in Famitsu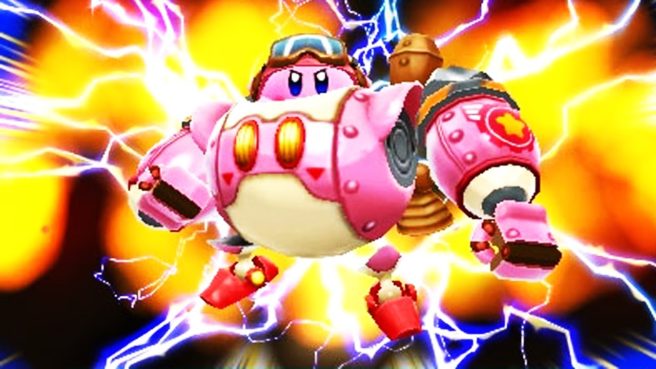 Kirby: Planet Robobot just launched in Japan a couple of days ago. Of course, it was accompanied by a recent review in Famitsu magazine.
We won't be seeing Kirby: Planet Robobot in the west until the middle of June. Because of that, we thought it might be interesting to take a look at what Famitsu thought of the game. Head past the break for the publication's translated review.
Reviewer 1 – 9

At first I was worried like "Are mechas going to hurt the world view of a Kirby game?", but that fear was groundless. Familiar copy abilities are going strong and furthermore you can get into Robobot Armor to scan enemies and it is great that you can enjoy exciting and very flashy action by performing a Mode change. Overall the game has been made very carefully, so it's an excellent title that you can continue to play with a good mood. It is also nice that you can play two mini-games in addition to the main game.

Reviewer 2 – 9

Copying diverse abilities and taking down enemies with unique skills is as fun as ever. When getting into Robobot Armor, you can use exciting skills even though they are the same abilities and it is good that you can experience controls with a different feel. It isn't just about the production, as it feels good to progress in stages by using this feature. Mechanical-looking enemies and stages are also done with a good taste. The compilation of mini-games is fully worth playing, too.

Reviewer 3 – 9

The destructive power of Robobot is the highlight of diverse abilities and there is a good variety from beginning to end. Concepts like electricity and radio follow the general theme and are utilized skillfully. The three dimensional structure of going between inner and outer side works well with stereoscopic 3D. While the difficulty is somewhat easy, you can fully enjoy the fun of conquering with enemy movements and attacks. Since the game is so fun, you'd want to challenge yourself with a few more stages.

Reviewer 4 – 9

Although the foundation of copying abilities from enemies is the same as in previous titles in the series, the production, which uses the depth of game field dynamically, and conquering elements are excellent. When you add into that the excitement of controlling Robobot, replay value is also good. The amiibo link supports all types of amiibo which is nice. Two mini-games and Score Attack feel complete and are worth playing. Wonderful games in one package!
---
Thanks for making it to the end of this post! If you use any of this translation, please be sure to properly source Nintendo Everything. Do not copy its full contents.
Leave a Reply