Konami and WayForward announce Contra: Operation Galuga for Switch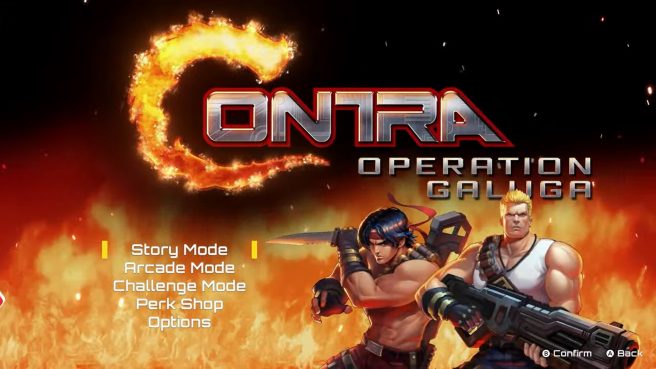 Konami and WayForward are developing Contra Operation Galuga for Switch, the two sides just revealed. It launches in early 2024.
Here's an overview of the game:
Contra: Operation Galuga returns to the series' classic roots as a thorough reimagining of the original NES/arcade Contra game from the 1980s. Iconic weapons and environments meet new stages, new enemies and bosses, new play mechanics, an updated power-up system, and modern graphics and sound.

Fan-favorite elite Contra commandos Bill Rizer and Lance Bean are redeployed into battle against the Red Falcon terrorist group, which has turned the once-peaceful Galuga Island into an all-out warzone where the fate of mankind hangs in the balance.

Up to two players can team up for co-op combat in Story Mode, and up to four players can join forces in Arcade Mode, as they run, jump, and shoot their way through various stages, including the jungle, the waterfall, and a hovercycle ride through an enemy base. Iconic weapons such as the spread shot, laser, and homing missiles return – now with the ability to stack two weapons of the same type for increased firepower – plus surplus weapons can be sacrificed to unleash awesome Overload abilities. The intense action will be enjoyed by Contra veterans and newcomers alike, thanks to three difficulty settings plus a variety of additional challenge options.

Key Features

The granddaddy of the run-'n'-gun genre is back, reimagined and more action-packed than ever!
A variety of explosive stages!! Infiltrate the jungle, ascend the waterfall, speed through an enemy base on a hovercycle, and more!
Team up! Up to two-player co-op Story Mode and four-player Arcade Mode.
Multiple playable characters with distinct abilities!
Epic, screen-filling boss battles!
New and fan-favorite weapons, now with stackable upgrades and incredible Overload abilities!
Multiple difficulty options and a wealth of extra content
Find the first trailer for Contra: Operation Galuga below.
Announcement Trailer
Contra: Operation Galuga will be sold physically and digitally on Switch. Limited Run Games will be in charged of the boxed editions, and more details will follow at a later date.
---
Update (12/4): A new trailer has now come in, which we have below.
Gameplay Trailer
---
Update (12/5): Konami has shared a bunch of new details, which you can find below.
Building upon the story and protagonists of the original arcade/NES Contra game, the mission in Contra: Operation Galuga kicks off following a meteor shower in the Galuga Archipelago and its subsequent invasion by the Red Falcon terrorist group. After other options fail, the Earth Marine Corps dispatches its most elite soldiers – Bill Rizer and Lance Bean of the Contra unit – to investigate and neutralize any potential threats. As the Story Mode unfolds, more than six hardcore heroes become playable, including:

• Bill Rizer: Field leader of the Contra unit, possessing exceptional physical strength, agility, and mental fortitude. Proficient in all manner of armaments and well-versed in military science.

• Lance Bean: An expert marksman adept with machinery. Was active as a guerrilla fighter before being recruited into the Earth Marine Corps by Bill Rizer.

• Ariana: A tremendously skilled warrior from the Galuga Archipelago. After her village was nearly wiped out by Red Falcon's attack, she wages a one-woman war against the enemy forces.

• Lucia: Deputy commander in the Earth Marine Corps and also a talented field operative. She is equally proficient at combat missions and covert intelligence.

• Lt. Stanley Ironside: A veteran who leads an armored platoon in the GX Army. He wears a powered Hercules exosuit to supplement his already formidable combat skills.

• Probotector: Autonomous training robots used by the Contra Unit. Utilizing cutting-edge tech, they are every bit as capable in the field as their human counterparts.

In addition to the Story Mode and Arcade Mode, Contra: Operation Galuga will include a Challenge Mode, featuring 30 nail-biting missions to overcome. These include speedrunning through stages, fighting with limited ammo, surviving relentless enemy hordes, and more.

To help even the odds, players can also enhance their capabilities in the Perk Shop, where they can use in-game credits (no microtransactions) to upgrade character abilities, start stages with specific weapons, increase invulnerability after respawning, and gain other helpful bonuses. Up to two Perks can be equipped per player.
Leave a Reply