Learn a little more about Mario Kart 8's music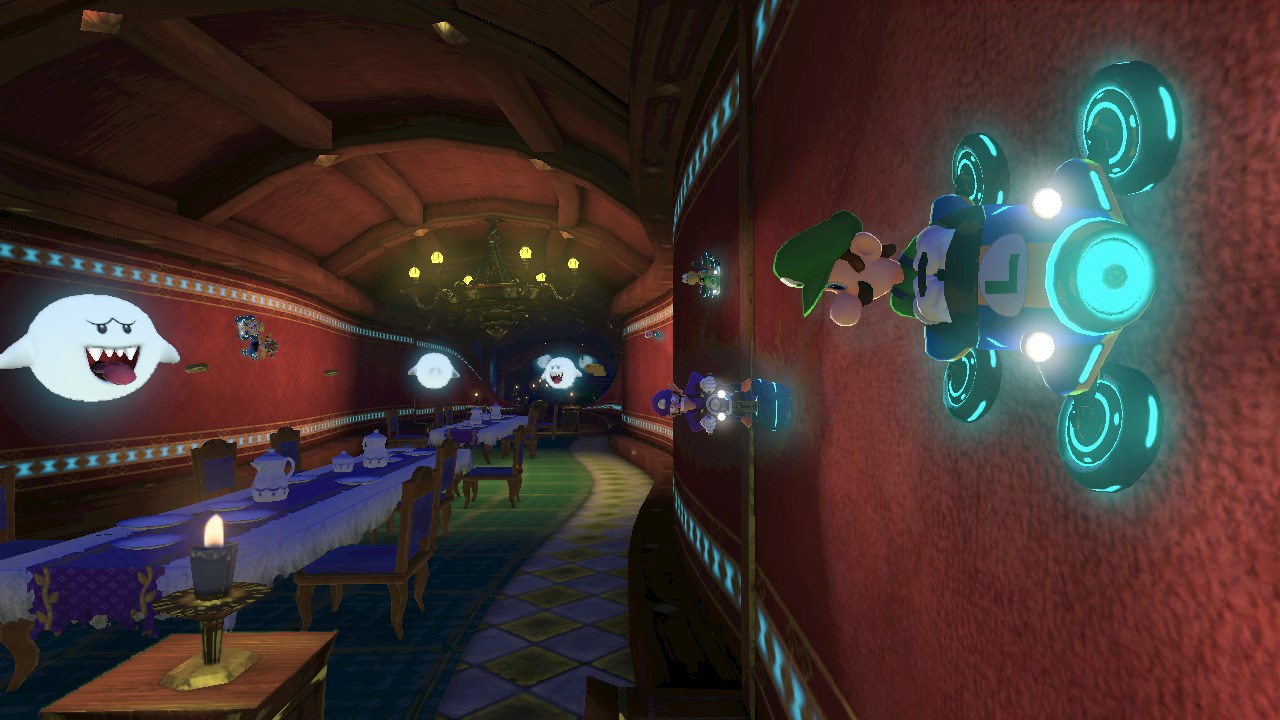 Kotaku has put up a new interview with Mario Kart 8 sound director Kenta Nagata and composers Shiho Fujii, Atsuko Asahi, and Yasuaki Iwata. There's lots of neat insight into the game's music and specific tracks.
We've picked out some excerpts after the break. Be sure to check out Kotaku's article for even more quotes.
Nagata on how Mario Kart 8 needed a soundtrack to fit the series' HD debut…
"It was felt that live recorded music would work very well in conjunction with [high-definition graphics]. It really creates a vibrant, live feeling, and amplifies the scale of the game as a whole."
– By using live musicians, they no longer had to "painstakingly simulate guitar performances" on computer
– More work with recording and mixing
– The production process "wasn't particularly special" since Nintendo has used orchestrated music before
Nagata on how Nintendo was particular in its choice of musicians….
"As I'm sure you're aware, the Mario Kart series is all about racing around courses brimming with variety, and the genres of music that accompany this are equally varied. We look for great musicians who can handle a variety of genres as opposed to just focusing on one in particular. We listened to a lot of music samples to select musicians we thought would be a good fit for the Mario Kart series."
"For the performances themselves," he continues, "we asked the musicians to play a little differently to how they would if they were performing formally, by asking them to keep in mind that the most important point was to avoid losing that game-like feeling, whilst also getting a performance with artistic character." The secret behind a good Mario Kart track, explains Nagata, is that it can survive being listened to "on [a] loop hundreds, if not thousands of times, without getting on people's nerves."P
Fujii on how the composers decided which tracks needed more live elements, and which would work better with synthetic instrumentation…
"It was a challenge to create music that made effective use of the good points of both videogame-style music and live music. For example, the music for circuit-type courses tends to be in a style suited to real instruments like guitar, bass, drums and so on. We were looking forward to hearing the natural groove and rhythm that the live performances of these instruments would bring to those tracks, so we chose to record them first. What we ended up with were tracks that had a lot more bounce than they would have had if we didn't use live-recorded instruments. On the other hand, we used synthesizer sounds a lot in the music of courses involving unusual locations or fantastical themes. That way we felt it would further enhance the sense of the fantastical and create very characteristic music."
Asahi on the game's title theme…
"I usually choose the instruments and tone of a piece to match the image I have of the course, so I didn't consciously think about whether each course needed a live element in its music or not. However, I wanted the players' immediate impression [of the main theme] to be that the music had been 'powered up' through the use of real instruments. Basically, my aim was for the track to have the feel of a live session, so as much as possible I gave the musicians space to improvise, emphasizing creativity more than I did when working on tracks for courses in the game."
Asahi on Cloudtop Cruise's music…
"After I talked to the course designer and they shared what they had in mind for the course, I felt that an orchestral sound would go well with it. It was right at that moment that I decided to incorporate the Gusty Garden Galaxy theme into it. There isn't really any deep meaning behind using it though, I'm afraid. The Good Egg Galaxy theme was used as a counter-melody in Rainbow Road on Mario Kart Wii previously, and more than anything else, Cloudtop Cruise is graphically evocative of Super Mario Galaxy, so it just seemed natural to do it."
Leave a Reply