[Let's Talk] How do you feel about ARMS?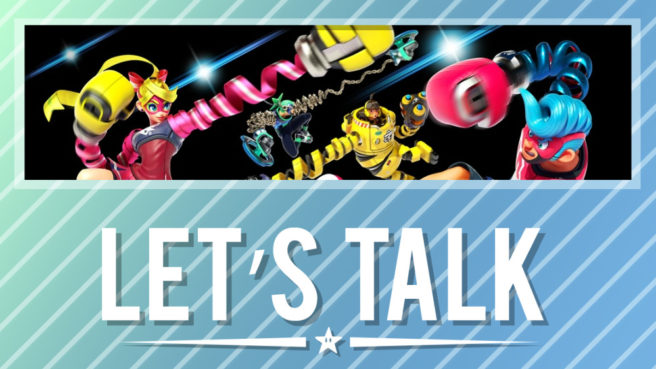 Nintendo had a big blowout of ARMS this week with its own dedicated Nintendo Direct. It really touched on almost everything we've wanted to know about the game. New characters were revealed, new modes were shown, and we even found out about ARMS Global Testpunch – an opportunity to try things out before launch.
Has Nintendo sold you on ARMS now, or were you already skeptical? Perhaps you're waiting until the ARMS Global Testpunch until you really make up your mind. Who's your favorite character? What mode interests you the most as of now? Share your thoughts about ARMS with us in the comments below.
Highlights from last week's topic: What are you playing? – May 2017
puchinri
Granblue Fantasy. Just GBF, almost obsessively, lol. I'm a hardcore newb, but I am enjoying it and getting the hang of understanding everything. I adore it~. I like the anime adaption too, but I wish they captured more of the game's essence. Not like they couldn't have done an A+ job too.
I am going to be going back to the 3DS though. I have a few games I want to start, and some I want to return to.
Really hoping the One Piece Unlimited World Red Deluxe Edition gets localized (for Switch) though, because I will just sit on it, all day, lol. Would be a great way to get my Law and Zoro fix while my number one hubby is shining in the manga. x'D
Bruno_Ostara
I've just bought my switch and Im playing tons of battle mode on Mario Kart 8. Having a blast with shiny thief. But i'm having problems with my connection so unfortunately cannot play online :/ at least I have my sister and my boyfriend to play with me but i'm hoping nintendo fix those issues, mario kart 8 on wii u i never had an online problem. But anyway, the game is a improvement in a kinda perfect game, just hope i can solve my online problems
Eric Flapjack Ashley
I'm still playing Mario Kart 8 Deluxe. The mix of new and classic battle modes are so much fun. I play Puyo Puyo Tetris online with friends. I'm also enchanted with Wonder Boy right now as well.
Fore
PC games PC games and yet more PC games. My Switch has been collecting dust for close to a month now, since I can't bring myself to play MK8D (as that feeling of "I've played this already, for a long time has irreversibly attached itself to me) for long stretches unless I'm doing it with friends, probably requiring something akin to Skype. That or local co-op, but maybe Disgaea 5 will bring some change in this.
Billy
Playing on PS4: The Last of Us, Uncharted 4, and Wonder Boy (Switch) while waiting for Zelda DLC 1, Yooka-Laylee and Rime, (the last 2 on Switch). The (waiting) struggle is real.
Leave a Reply